Extreme Makeover: Home Edition's Tracy Hutson Talks to CBB About Feathering the Nest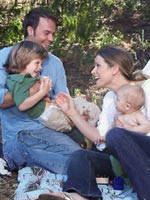 Laurie Frankel
An acclaimed interior designer, Tracy Hutson made her mark as part of the design team on Extreme Makeover: Home Edition. With Samantha Who?'s Barry Watson since 2003 and mom to their two little boys — Oliver, 4, and Felix, 19 months — Tracy knew exactly how she wanted her sons' rooms to look: "Mentally stimulating yet emotionally comforting, maximizing safety, and built and decorated with a healthy dose of environmental responsibility." She's spun her ideas into a new book, Feathering the Nest: Tracy Hutson's Earth-Friendly Guide to Decorating Your Baby's Room.
We chatted with Tracy about the book, her boys, as well as eco-chic and budget-friendly ways you can decorate your infant's nursery. She even gave CBB readers tips for their nurseries!
Whether you're a first time mom or adding a new addition to your family, Feathering the Nest is filled with eco-chic and budget friendly tips for decorating your child's nursery. The book is divided into four design themes — vintage, contemporary, traditional and international — with color palettes and suggestions for everything in the room, from floor to ceiling. From furniture and bedding to lighting and window treatments, Tracy includes ideas for storage, special touches and putting it all together. She even shares photos of her own sons' rooms. Each chapter also includes totally doable projects such as an appliqued dresser, updating a lamp, framing and a decoupage side table. Scattered throughout the book are tidbits and tips about everything from what's in baby lotion and a list of plants that are toxic to children to brain-stimulating ceilings and crib safety basics.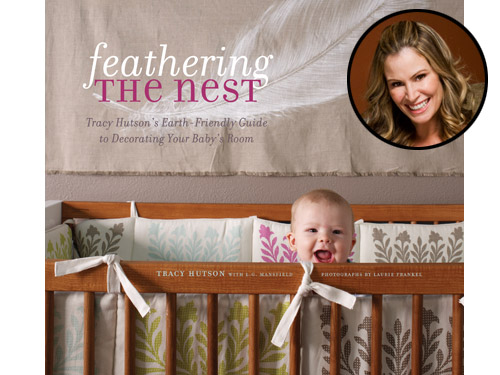 Laurie Frankel
Celebrity Baby Blog: Feathering the Nest is a really beautiful book. The photos are gorgeous, even the typography is beautiful.

Tracy Hutson: I definitely tried to make it a go-to book: one book about the room, to give tips, brain stimulation, safety tips.
It's so useful unlike some books that are just pretty photos. What was your inspiration?
I thought it would be interesting to do a design book because I think of it as the way I go about tackling any project or sitting down with a client. So initially I was sort of playing with ideas of just doing a design book. And then it was a natural progression. Being a mom, you are just inundated with all this information, and giving your girlfriends advice and whatnot, and I just thought, "It makes so much sense for me to do a book about baby rooms." And the more I researched it, the more I realized there weren't that many nursery design books. When we find out we're pregnant, we go straight to the bookstore. So I think being pregnant with Felix just gave me the extra incentive to say, "You know what, I love doing kids' rooms, and this is how I go about it." So I tried to get all that information into one source. But just being a mom was definitely my inspiration. You know, it's just, our lives! So that was my inspiration for sure.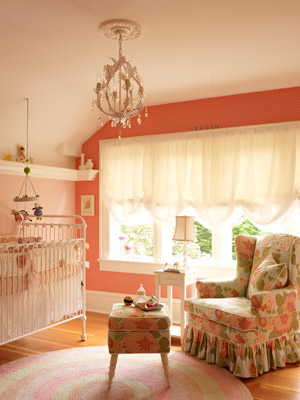 Laurie Frankel – Vintage
Were you always interested in eco design, or is that something that you came to after you became a mom?
I've always been interested in trying to repurpose things. I love vintage shopping. My grandmother owned an antique store when I was growing up and she also did interior design, so I've always had this fascination with antiques. I just think that it's a really smart way of thinking. I love that it's now becoming a trend and working in our favor.
If we can just make subtle changes to leave this planet to our children and grandchildren in better condition than we received it, then I feel like we're doing our job. It's just subtle changes, which is the message I'm trying to get across. I'm not this person who doesn't shave their legs and makes their own soap — I'm just a normal mom! — but I'm just trying to make conscious decisions on buying the right products, and not being this consumer that is wasteful and goes out and gets things I don't need.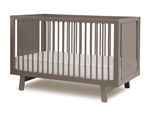 Oeuf NYC Sparrow Crib
If someone's going to splurge on one thing for their nursery, what do you think is the best organic or eco-friendly product for the money?
There's a line of furniture that's called the Sparrow Collection [from Oeuf NYC], and it's so beautiful. If you really want to splurge on eco-friendly baby furniture, go for it! There are things like wardrobes and dressers you can use a changer in the meantime, then your kids can have it forever — even take it to college with them. That's where I splurged.
I'd also splurge on an organic mattress, a crib mattress. Again the price points are coming down, which is nice, and they're more expensive, but well worth it. I mean, think of how much time your baby spends sleeping in the first two months!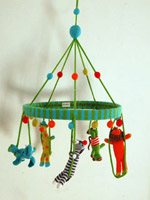 bla bla jungle mobile
What are your personal favorite nursery products?
blabla has the cutest stuffed animals, mobiles and more. I always have their toys and clothes! It's just a great company and I always suggest them to people.
I use organic sheets. The DwellStudio Baby's organic line is what I use on Felix's crib, and that's a nice, neutral cream color. I love it.
Reader Stephanie wants to know where you went to design school.
I'm pretty much self-taught. I took some classes at the Denver Institute of Art when I was younger, and took some classes out here in California. I definitely would've had to pay for my own school, so instead of enrolling I started my own design business, and planned on that to help me go back to school. I always kept it in my back pocket — the plan to go back. But my business completely took off — it's something that I've been doing since I was a teenager, working with my aunt and grandmother. And it's something that I love — it comes naturally — so it worked out in my favor. Again, I don't have a design degree, but it worked for me — I was cast on a reality show, and that was that!
I have fans who come up to me and ask where to go to school, or ask what steps I took to get on the show. And honestly, I have no idea! I owned my own small business, I was hustling, woke up first thing in the morning and drove all over the place. It was the right place at the right time for me. You just have to follow your passion.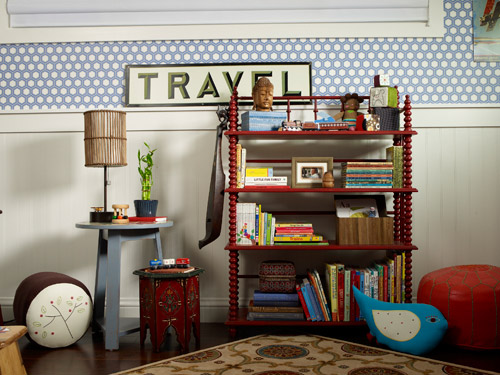 Laurie Frankel – International
Reader Natasha wants to know how you teach your boys to be kind to the earth.
My boys are such nature lovers! We spend probably 80% of the day outside. If they could spend all day every day outside they'd be happy. They love bugs — everything living is equal to them. They play with bugs, watch them "go home to see their mom and dad." They embrace it. Kids are so kindhearted naturally, so if you don't make them fearful of things, it's all good. We make them recycle, rinse things out and put them in the right bin, and make it a game.
I have those little reusable thermoses that I stick in their backpack, instead of juice boxes, and I try to cut down on things like that. When I pack lunches, I wash out the containers and use those. It's about trying to cut down on packaging as well. Poor Felix — it's all hand-me-downs for him! I was like, "Oh a second boy? That's easy!" It's the cutest stuff anyway.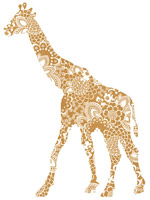 Inke Giraffe Wall Graphic
Reader KelB wants to know about design. She wants a whimsical jungle for her baby's room. She's wondering about tips for ways to make a nursery fun and creative but still neutral.
There's the cutest product from Inke, and they're vintage wallpaper cutouts. They have a safari edition, they have all sorts of animals that could go with her theme, and it's a natural, earth-friendly company. The kit comes with cutouts, instructions and natural paste. And basically you mix the paste together and put it up on the wall, and I'm telling you they're the cutest things, and so easy! There are tons of different patterns, and it would fit in with her theme for sure. A big giraffe on colorful wallpaper would be so cute.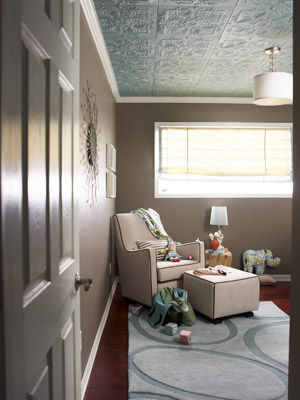 Laurie Frankel – Contemporary
Reader Mrs. R is having a little boy, and the boy is going to move into her daughter's room with her — they'll sleep in the same room. How can they make the room more gender neutral with less money?
Paint is obviously the easiest way to change a room, so if she does have pink walls I'd suggest a neutral wall. It's fine for her daughter to have a girly bed. Let each child keep their individual personalities. Change the window treatments and the rug to be more gender-neutral, but the rest can stay. Primary colors are easier with two kids sharing a room — reds, yellows and blues work better with both sexes. But I don't think there's anything wrong with her daughter having her girly sheets and linens on her bed, and just keeping it to that.
Give her her own space, but you'll have to throw out the girly pink rug. You need one, big neutral rug for those kids. Then the window treatment — I love Roman shades. They're such an easy fix. Even if she just went with a pale blue wall and a neutral rug and a neutral window treatment, then put the childrens' artwork up on the walls, it would work. But for her son's sake, she has to take out a little bit of the girliness.
I noticed in the dedication of the book you dedicate it to the boys, and Janessa — can you tell us about her?
Janessa is one of the sweetest souls that I had the honor to meet. We did a house for her and her family in Oregon. She had beat cancer, and their family's house was coming down, because all their money and time went into her treatment. By the time we got to her house to give her a makeover, her cancer had come back. This was a little girl who had the biggest heart, the biggest smile. It was just one of those things, just the realism of how evil cancer is. It's so unfair – pediatric cancer particularly. She would take all of her money, and raise money, to take toys to babies and kids who were having cancer treatments in the hospital. She was an amazing soul.
I was pregnant with Felix when we went to her house, and she was all excited about my new baby and wanted to keep in touch. Before my book came out, she passed away. She was just an angel. So, whenever I was having long days, or thinking I couldn't make it through, I would think of her, what she did and what she had to go through at such a young age. What a fighter! She would tell everyone around her, "It's OK." It's just a reminder of how short life is, how precious life is, and that we should enjoy it while we're here. She was an amazing little girl, who left us way too soon. She meant a lot to me, in my short time with her.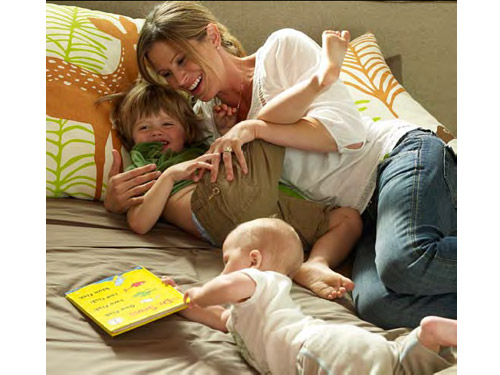 Laurie Frankel
Are you still on Extreme Makeover: Home Edition?
The last episode I shot aired Sunday, April 26. I travel with Felix and I don't like being away from Oliver nine days at a time. But the show will always be part of my family!
— Danielle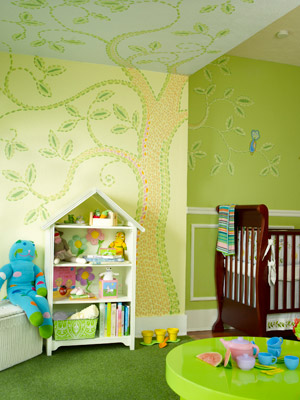 Laurie Frankel – Traditional
Here are some of Tracy's tips on impactful ways you can decorate your home that are both eco- and wallet-friendly:
No-VOC or low-VOC paint can go a long way and can completely transform a room. (VOC = volatile organic compounds, what gives that "paint smell")
Look around your house, garage, storage room and see if there's something that's been collecting dust that you can clean up and put back in.
Try vintage shopping, antique shopping, yard sales — [you'll find things that] might need a little touch-up paint or whatever the case may be, but just keep your eyes open for used or second-hand things.
Share things like clothes, books and toys with your friends that have babies that are younger. As you know, they grow out of it so quickly! So definitely donate it or give it to a friend. Don't just throw it away.