Caught Caring: Marcia Cross and Step Up Women's Network
A steadfast commitment to womens' and childrens' health advocacy earned Marcia Cross a spot at the podium of the 2009 Inspiration Awards for Step Up Women's Network, held last Friday in Beverly Hills. The 47-year-old Desperate Housewives star and mom-of-two was honored for embodying the non-profit organization's stated goal of encouraging women to leverage their professional connections and network to give back to others.
CBB readers know that Marcia takes the dangers posed by the sun seriously; Her twins Eden and Savannah, 2, are rarely photographed without their hats on, and Marcia often wears one as well. Her concern isn't limited to her own family with husband Tom Mahoney, however.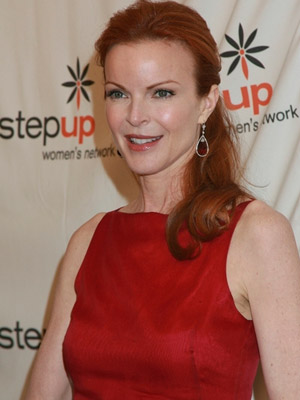 Amy Tierney
She has served as the spokesperson for Skin Cancer Takes Friends, an annual awareness campaign that encourages skin cancer prevention and detection by offering free screenings. Marcia has lobbied on Capitol Hill for the passage of the Breast Cancer Protection Act of 2007 — which sought an end to drive-through mastectomies — and is a big supporter of the Revlon Run/Walk for Breast Cancer. She also fronts Mott's Wake Up Call campaign, which seeks to feed 1 million children in need via Feeding America's network of partner food banks throughout the United States.
With such a philanthropic spirit, Marcia was an easy choice for the 2009 Inspiration Awards, says Step Up's Los Angeles Managing Director Angie Grabski, who adds,
"A truly generous, giving woman and mother, Marcia certainly inspired us this year!"
With a motto of "Invest, Involve and Inspire," Step Up is dedicated to strengthening community resources for women and girls. Through teen empowerment programs for underserved girls, women's health education and advocacy, professional mentorship and social networking opportunities, Step Up educates and activates its 50,000 members to ensure that women and girls have the tools they need to create a better future. For information on how you can step in to Step Up, click here.