Marcia Gay Harden's Bake Sale Confession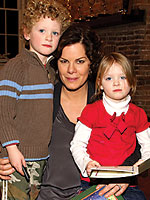 Bryan Bedder/Getty
During a recent visit to Live with Regis and Kelly, guest Marcia Gay Harden and show co-host Kelly Ripa revealed that their children attend the same school, leading to some star-studded bake sales. "I do my very, very best … but [Kelly] is very involved," the 49-year-old actress shared. "I got out of my car, and I had my pan of muffins in my hands, and I walk by Kelly and she had her muffins in her hands. I said, 'My assistant baked mine; How about you?' And [Kelly] said with a smile, 'I baked mine myself.'"
Kelly was quick to point out, however, that if Marcia shirked her bake sale duties she at least had a good excuse! Currently starring in God of Carnage on Broadway — she won the best lead actress Tony this past Sunday — Marcia is a busy working mom. Daughter Eulala Grace, 10, has a dressing room adjacent to her moms', where both can often be found working on schoolwork. "I'll be…putting my makeup on, and going 'Okay how about that math problem? Which I have no idea to do anyway," Marcia explained, at which point Kelly interjected, "The problem of the week! It's murder." Agreed Marcia, "Yeah, the POW. It's horrible…I will be doing that and they'll go 'Places!' and I'm going down the stairs, [yelling] 'Finish that social studies! This show is an hour-and-a-half without an intermission. I want it done!'"
Although it sounds hectic, Marcia is appreciative of the flexibility her career provides. "The truth is, it's a great way to have a family," she concedes.
"I know when I first came to New York City and I wanted to be an actress I didn't know what having a family and being an actress would be like. But it's like any other working mother…You kind of fit them in here and there and you make it work."
In addition to Eulala, Marcia is mom to 5-year-old twins Julitta Dee and Hudson Harden with husband Thaddaeus Scheel.
Source: Live with Regis and Kelly
— Missy