Denise Richards: Reality Show Captures Special Moments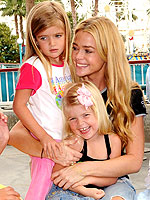 Albert Michael/Startraks
When Denise Richards first announced her reality series Denise Richards: It's Complicated, the mother of two was met with her fair share of critics — including ex-husband Charlie Sheen — denouncing the presence of her daughters on the show.
According to the actress, however, being in front of a camera is old hat for her girls! "My daughters have been around this since they were babies," she tells PEOPLE. "They come to photo shoots, they come to set all the time, so they're used to this environment." As for Charlie, he's "actually very supportive this season. He saw how little they were on last season, as did a lot of people who gave me a lot of flak for it," Denise explains.
With 4-year-old daughter Lola Rose making her first appearance on a movie set when she was  six weeks old, Denise explains that the filming of the toddler and her older sister Sam, 5, for her show serves as a way for the busy mom to keep the memories alive.
"There are nice moments that I will have forever. I never would have gotten a video of my daughter saying [her] Nana [is] their angel. Stuff like that. They're in it very little and as a parent I'm so proud of them, and think it's very cute. I don't think my girls are exploited. If they like being around me it's because they get to be with me, and if they want to be filmed great, if they don't they walk away and I don't care."
In fact, Denise says Sam and Lola hardly notice the crew on their heels! "My father and I actually commented on how my daughters don't even ask about the cameras," Denise laughs. After the girls associated the shooting schedules with extra food — craft services! — during the first season, the 38-year-old actress admits that it has been smooth sailing ever since. "We set up a room in my house as the production room," she says. "Sami would say, 'The people with the snacks left their snacks!'"
Denise Richards: It's Complicated airs Sundays at 10:30 p.m. on E!
— Anya