Mythbusters' Kari Byron Says She Stays Safe on Set For Baby's Sake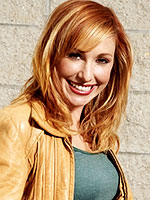 Discovery Communications
There is nothing ordinary about Kari Byron's day job, so when it comes to her pregnancy, the unusual is often expected! A co-host of Mythbusters, Kari has seen it all, but when she discovered she was expecting her first child, the demands of the show and the strains it could possibly take on her unborn child have quickly become her first priority. "I have weird little worries like how loud does a gunshot have to be for the baby to hear it," she laughs in an interview with Pregnancy magazine.
"I now know that I have to be 5,000 feet from an exploding bomb instead of 2,000 feet!"
Thrilled to be starting a family with her husband Paul Urich, the expectant mama jokes that her partner may be too excited! "He's been doing more nesting than I have," she says. Unfortunately, the added support from Paul left Kari missing out on the essential baby gear shopping spre0e — he beat her to it! "I came home the other day and he had already bought the crib, a stroller, some swaddling blankets, a little baby hat, a vibrating seat … I'm like, 'Wait a minute, I'm supposed to be doing all that!'" she notes.
That said, Kari has been experiencing a few nesting pangs of her own. Undertaking the great task of "cleaning parts of my house that have never been cleaned before," mama-to-be found herself crouched under her kitchen sink scrubbing all "the weird gooey-ness" away. "It has to be spotlessly clean, although I'm hoping the baby won't be spending too much time under the sink!" she kids.
One area where the 34-year-old has no qualms about her husband stepping up to the plate is dinner time. After experiencing some unusual cravings including beef stew, Kari, who prior to the pregnancy was a strict vegetarian, called in Paul to slice up the meat and dish out the servings. "My husband had to cut the meat up — that part was too gross for me! — and he prepared it," she says.
"I guess the little baby wanted to taste beef! Not even a gateway meat like chicken!"
Amazed by the idea that she is "on the verge of such a life-changing event," Kari, although "blissed-out happy," finds herself sneaking in a bit of downtime whenever — and wherever! — she gets the chance. "When I get really tired I make a little bed for myself under my desk with a sleeping bag and blankets," she shares. "When they can't find me, they know to look under my desk!"
Source: Pregnancy 360
— Anya