Lance Armstrong's Special Delivery: Max!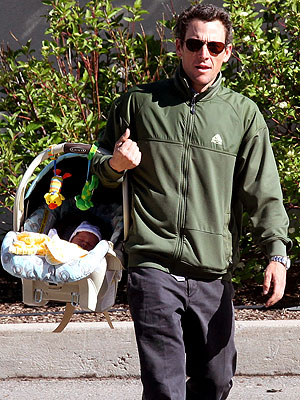 Fame
Homeward bound! Lance Armstrong totes newborn son Maxwell Edward as the pair — plus mom Anna Hansen — left the hospital in Aspen, Co. on Saturday morning.
Since returning home, Max, 4 days old, has stayed busy keeping on top of his Twitter account!
"Finally got to go home. All my grandparents are here too. I feel like a hot potato," baby boy updated Saturday. Yesterday brought the news that he "just got my diaper changed. Lookin' [forward] to doing this myself!"
Max rides in a Graco SnugRide in Melbourne ($90). Hanging from the handle are Infantino's Tag Along Chimes ($6.50 for two).