Gwyneth Paltrow on 'Aggro, Crazy' Moses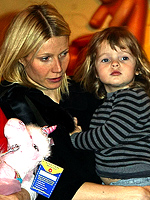 Bauer Griffin
Boys will be boys! During a recent appearance on The Tonight Show with Conan O'Brien, Gwyneth Paltrow agreed with show host Conan O'Brien that parents aren't always the explanation behind girly girls and rough and tumble boys. After asking Conan if  his 3-year-old son Beckett is "aggro and crazy," Gwyneth shared that her own son Moses, 3, is "in this phase right now…[where] he's just, like, bashing everything all over the house." To be fair, however, Gwyneth pointed out that Moses is also in touch with his softer side.
"We actually call him our sensitive thug. It's a line from a Jay-Z song, because that sort of characterizes him perfectly. He's so out of his mind and then he has these moments that are very poetic."
Case in point? According to Gwyneth, Moses recently picked up a paperclip and exclaimed, "My splendid thing, I will hook you up." When Conan pointed out that Moses sounds as though he is wise beyond his years, Gwyneth agreed. "He does talk like he's from another century," the 36-year-old actress said. "He'll say, 'Is it not raining?'" Gwyneth went on to reveal that she's "not sure" what Moses and his 5-year-old big sister Apple Blythe Alison think she does for a living, but they're definitely keyed into dad Chris Martin's music career — as well as the career of their very famous rapper friend.
"[Moses watches] his videos all the time. 'I want to see Uncle Jay-Z.' So I put on the 99 Problems video, because he's obsessed. Which is actually quite not appropriate by the way…He loves it. He sits there like this [bobs head]."
Calling her kids "amazing," Gwyneth was quick to deflect the credit. "It's got nothing to do with me; I don't know how they turned out that way," she said. "They're brilliant and they're funny."
Source: The Tonight Show with Conan O'Brien
— Missy
Watch the video below!

Vodpod videos no longer available.