Fantasia Barrino: 'If I Could Have Waited, I Would Have'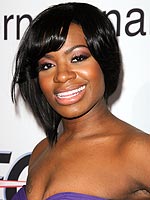 Bob Charlotte/PR Photos
Although Fantasia Barrino and her 7 ½-year-old daughter Zion Quari offer a shining example of how a teenage pregnancy can have a happy ending, she nonetheless says that it's a path to be avoided. "There were a lot of things that my mother and my grandmother tried to tell me, but I felt like I really didn't want to listen because they didn't know the new school stuff," the 24-year-old American Idol winner and Broadway star recently said at the 'Saving Our Sisters' summit in Biloxi, Miss. "They didn't know it like I know it, and they didn't understand what I was going through."
In hindsight, however, Fantasia says she realizes that their warnings were rooted in experience. "They knew what I was going through because they had done everything that I was trying to do," Fantasia explains, adding,
"But I didn't listen, so I ended up dropping out of school and having a child at a young age. And I thank God for my daughter, but if I could have waited, I would have."
Her motivation in telling her story to the approximately 3,000 girls in attendance? To help them make a different choice. "I could be a testimony to some of these young people and say to them, 'Yes, I've overcome a lot of things, but it was tough. It was hard,'" Fantasia says.
Source: WLOX News
— Missy