Annika Sörenstam: Expecting a Girl!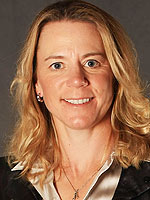 Scott Halleran/Getty
Move over Sam Woods, there is new competition on the LPGA superstars-of-the-future tour! Golf great Annika Sörenstam recently announced via her blog that she is indeed expecting a daughter with husband Mike McGee. She writes,
"Mike and I are happy to announce that we are going to have a little girl. To use golf terms, we just 'made the turn' from a timing standpoint and are very excited that everything looks good so far."
During a separate post six days later, Mike took to the blog to share their collective joy over joining the pink team. "We are really excited about her and the fun that lies ahead," he writes. "I think it's almost fitting with everything Annika has done for women's sports and the inspiration she has given millions of little girls!" A self-proclaimed "disaster" in the kitchen, Mike went on to share that he recently made chicken noodle soup for Annika that left her stomach churning — in more ways than one!
"Later that night when we went to bed, Annika said that she thought she felt a kick. Sure enough, we held her stomach and it was the first noticeable movement our little one has shown us. It was a very cool moment."
Annika is keeping her pregnancy weight gain — 12 pounds so far — in check with lots of exercise, though she's had to modify her regimen. "I think I am going to the pool to swim some laps," she writes. "I have changed my workout routine since life on tour, especially being pregnant as I feel a little limited with regards to what I can and can't do. However, swimming has no impact and I don't feel the extra weight around my belly."
Source: Annikablog.com
— Missy