Edie Falco: Realization of Motherhood Was 'Huge'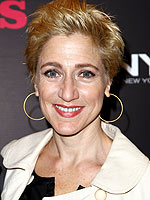 Neilson Barnard/Getty
When actress Edie Falco was cast on The Sopranos, the show led to the fulfillment of career goals, but it wasn't until she become mother to Anderson, 4 ½, and Macy, 16 months, that her life's ambition came true. Looking to adoption after deciding to pursue motherhood, Edie welcomed Anderson as an infant. It was an emotionally difficult experience, Edie admits.
"You can't believe you're being left alone with this infant. 'Don't they know I don't know what I'm doing?' Losing sleep. Up to that point it had been all about me, 'Oh, I'll get another massage.' And all of a sudden there's this screaming thing in your house and that's what your whole life is. That was huge," explains Edie. Motherhood "made me realize that I can show up for the responsibility."
"In the beginning I thought, 'I don't know what the hell I've done. And there's no way I can follow through on this.' Meanwhile I got up every morning and I changed his diaper and I fed him his bottle, took him to his doctor's appointments. I did all the stuff day-by-day gritting my teeth, I guess thinking this is what you do until it turns into a life that grows roots in the ground and becomes this whole living thing."
A year into raising Anderson, Edie "realized he needs a sibling and I want another kid. I started the process again. And you start with the diapers and formula and you're back at it again," she laughs. Motherhood has brought Edie everything she felt she needed and it's an experience that she describes simply as "huge."
"The first time realizing I'm actually a mother is just huge. Even when I say it now all these years later it still comes over me like a wave. Huge!"
Edie, 45, can next be seen in Showtime's Nurse Jackie, premiering Monday night at 10:30 p.m.
Source: The Modesto Bee
— Angela