Lance Armstrong Welcomes Son Maxwell Edward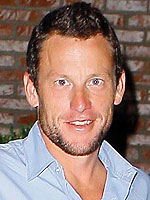 Flynet
Update: Lance has uploaded a second photo.
Originally posted 12:05 a.m.: It's a boy for Lance Armstrong! Girlfriend Anna Hansen delivered the cyclist's fourth child, son Maxwell Edward Armstrong, on Thursday evening at 8:56 p.m. Baby boy weighed in at 7 lbs., 5 oz and is 20 inches long.
Breaking the news via Twitter, Max — apparently already schooled in how to Tweet! — writes, "Wassup, world? My name is Max Armstrong and I just arrived. My Mommy is healthy and so am I!" The newborn then shared a photo of himself!
Lance, 37, and Anna announced the pregnancy in December. Max joins siblings Luke, 9 ½, and twins Isabelle and Grace, 7 ½, from the Tour de France winner's previous marriage to Kristin Armstrong.
Source: Lance's Twitter