Kelis Likens Later Stages of Pregnancy to 'Purgatory'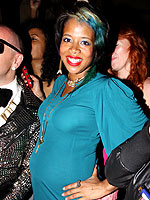 Johnny Nunez/WireImage
Taking to Twitter to voice her third trimester angst, Kelis is "so ready" to have her baby! Currently eight months and one week pregnant with her first child, a son, the 29-year-old singer writes that she has been "living in purgatory."
"I feel like I have been pregnant forever…Okay, yeah the better part of a year! It's an eternity."
There are some staples of pregnancy that she hopes she'll never see again — like leggings! "Good grief, a girl can only stand but so much Lycra in one lifetime," she notes. "I have had enough…I want corsets and and tight jeans and platform stilettos and I want it now!"
The discomfort she describes is something most moms know all too well. "My rib cage is being attacked by my stomach which is annihilating my lungs," she writes.
"I want this little martian now! I can't wait — the suspense is crazy."
Baby boy will be the second child for Kelis' estranged husband, rapper Nas, who is already dad to a 15-year-old daughter named Destiny. Kelis' due date is July 21st.
Source: Twitter
— Missy