Jennifer Lopez Loves Working With Her Twins in Tow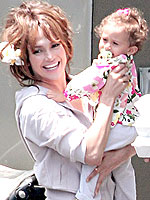 Pacific Coast News
Set to make her return to the big screen in The Back-Up Plan following a three year hiatus, Jennifer Lopez first had to conquer the basics: nerves! Admitting that her initial jitters were once a force to be reckoned with — "I was like, 'What if I forgot how to act?'" — the star has once again found her comfort zone. "It's great to be back, actually," she tells Entertainment Tonight.
That said, much has changed since her last movie; Not only did Jennifer show up the first day on location, but so did her 15-month-old twins Maximilian 'Max' David and Emme Maribel! "I bring the babies to work with me," she shares.
"Honestly one of the best days of my life was the first day back working on this film — I wanted to do this film really badly — and bringing my babies with me that morning. I was like, 'Oh my God, they're with me, I'm making a movie, they're here!' It was the best."
While she may be thrilled with her place in life, the road leading her back in front of a camera was not easily traveled! After gaining a total of 50 lbs. during the pregnancy, Jennifer admits she once envisioned the extra weight melting off with little effort; Unfortunately, once she hit a plateau, her assumptions were far from the reality. "The first 30 [lbs] dropped off like that and I was like, 'Ha! This is going to be so easy!'" she recalls. "And then those last 20 … Whew! That took awhile."
For the 39-year-old, stepping into her role as Zoe in her new film, a woman desperate to start her own family, was no stretch of the imagination. "It's great that I get to do the whole pregnant thing because it is so fresh in my mind," she says. To that end, her journey thus far of motherhood has given her a new edge, Jennifer explains, one that allows her to bring her own experiences to the table. "Just being a mom and thinking about being a mom … the emotional part of it, kind of the sentimental feelings that go along with the romance of it and somebody standing by you."
"I get to bring all of that into this movie … my perspective has changed for the better, I think."
Max and Emme are Jennifer's first children with husband Marc Anthony.
Source: Entertainment Tonight
— Anya