Nicole Richie and Harlow: Errand Run!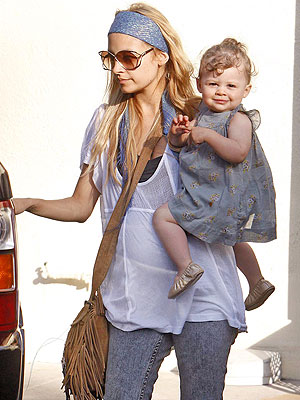 Ramey
Joining hippie-chic mama Nicole Richie for a few errands, Harlow Winter Kate smiled for the paparazzi on Tuesday in West Hollywood.
After the pair were finished running around town, they met up with friends for lunch at Sunset Plaza.
Harlow appeared with Nicole and grandfather Lionel Richie on Larry King Live last week, with Nicole joking that the 16-month-old is a very spoiled little girl!
"That's been the most difficult challenge with both my parents. [My mom] is the best grandmother in the world. [But] it frustrates me, because I'll say, 'She needs a pair of shoes,' and my mom will come back with 20 pairs of shoes…Spoils is an understatement."
Speaking of shoes, Harlow is wearing Sue London's Infant Slipper in Van ($102).