Indy Driver Alex Lloyd Welcomes Daughter Bethany Amelia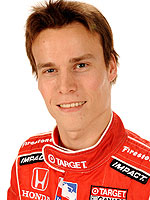 UPI Photo/Michael Bush/Landov
Indy driver Alex Lloyd and wife Samantha are celebrating the birth of their second daughter. Bethany Amelia Lloyd arrived Tuesday afternoon, June 2nd, weighing in at 6 lbs., 12 oz and measuring 20 inches in length, the proud papa announced via Twitter.
It would appear as though baby girl needed some coaxing! Throughout the weekend Alex tweeted that Samantha — who had been due May 24 — was experiencing contractions, and on Monday morning he revealed that the couple would check in to the hospital at 6 a.m. Tuesday. Throughout the induction Alex, 24, offered updates. "No baby yet! She's taking her time but we are both all good watching Anchorman," he shared. Shortly thereafter, Bethany was born. Tweets Alex,
"Starting her off right… Born to [Anchorman character] Ron Burgundy."
Bethany joins big sister Ava, 20 months, at home. For more pictures of Bethany, click here.
Source: Twitter
— Missy