Philadelphia Flyer Simon Gagne Welcomes Son Matthew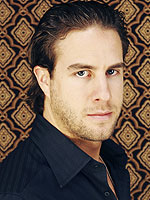 Jennifer Pottheiser/NHLI via Getty
Philadelphia Flyer Simon Gagne is continuing to produce, even in the off-season! The 29-year-old forward welcomed his first child on Tuesday, a boy Simon and wife Karine have named Matthew. Just two days later, Simon flew to Nashville for hip surgery, and on Friday he returned home to his new-found family of three.
"It feels like a dream," Simon admitted. "I don't know if I really realize it yet."
"This is where you start to realize that you are going to have a family, and you are going to be a father when the baby comes back to the house…I am sure the next couple of days are going to be very fun to get better, start to heal the hip, with my baby, Matthew, and my wife. It is definitely one of the greatest moments in my life."
Matthew is the first child for the couple.
Source: Philly.com
— Missy