Molly Ringwald Not Discounting a Natural Birth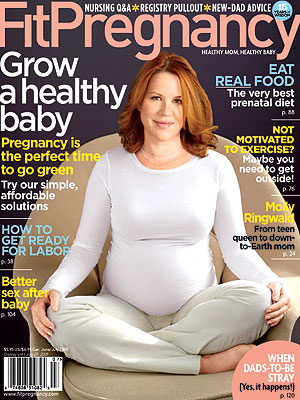 Courtesy Fit Pregnancy
Molly Ringwald is striving for a natural birth with the boy/girl twins she expects in early August, but her choice has been greeted with resistance from some.
"It's not easy to find an OB who won't immediately schedule a C-section when you have twins," she explains in the June/July issue of Fit Pregnancy. "It feels like our country has gone a little crazy on that front."
That said, the 41-year-old The Secret Life of the American Teenager star will keep her eye on the prize — two healthy babies! — and adjust her birth plan accordingly.
"I really do feel that giving birth the natural way is important. Of course, if they tell me I have to have C-section because it's dangerous for the babies not to, I won't say no. But I don't want to discount it as a possibility."
Although Molly and husband Panio Gianopolous never envisioned such a large age gap between their daughter Mathilda Ereni, 5 ½, and her younger siblings, it turns out that the timing couldn't have been better.
"I actually think it's a good thing considering we're having twins, as it would be so much harder with a toddler than with an almost 6-year-old," Molly notes. "It's exciting, especially since it's a boy and girl…It's the best of both worlds."
A self-described "deficient" playdate planner, Molly notes that there are other perks to having twins. "It will be nice that they have each other," she admits. "I won't have to scramble for playdates; I am really bad about that." As for Mathilda, although she's "excited" to be a big sister there's also a "certain amount of trepidation" about the rapidly changing family dynamic.
"She's been an only child for 5 ½ years. She doesn't exactly know what it's going to be like. Everywhere we go people tell her she's going to be a big sister. She's been a baby for so long, so it's a lot for her to take in. She did tell us that when the babies are born that we should find a stepdaddy for them."
Click below to read about what Molly's craving, and her advice for other expectant moms.

Having been a trio for so many years, Molly says that what she's looking forward to most is having a bigger family. She's also excited, naturally, to finally meet her new son and daughter! "It's so hard to imagine your children before they are actually here," Molly points out. "I say to my husband all the time, 'Can you imagine life without Mathilda?' She is such a huge part of us now, it's impossible to think of life without her." Although her daughter has "elements" of both her parents, Molly says Mathilda is one-of-a-kind. "She has … her own personality, sense of humor, and individual ideas," Molly reveals. "It's so interesting to see how they grow and develop."
"It will be the same way with the twins. Because it hasn't happened yet, it's so exciting to think about who these little people will be."
Because the twins are likely her last children, Molly says she'll be making a concerted effort to savor each and every moment. "Everyone says it goes by so fast, but when you are in middle of it, it doesn't seem like it's going so quickly," she notes. "All of sudden, your baby is a toddler, then a little girl and all grown up. It does go by in a heartbeat." Her approach doesn't necessarily extend to pregnancy, however; Admitting that she doesn't love being pregnant, Molly is quick to clarify that she doesn't hate it, either. "People are so kind" to expectant mothers, she notes before adding,
"There is something wonderful about it. The second you know, you cannot stop thinking about it. But I find it difficult to be restricted in my movements and to feel vulnerable all the time. I am used to feeling very strong and active, to be able to pick up anything and you can't do that when you are pregnant."
With Mathilda, Molly craved Mexican food but with the twins, her hankerings have been for Japanese; That take-out trade-off has translated into less weight gain overall. "It…is definitely a better craving to have," Molly says. "I also want anything with water in it like cucumbers, watermelon and orange juice." Although she has "worked out a little bit," Molly says she hasn't "gone crazy with it." Instead, her priority has been on "resting and making sure everything is progressing along."
"I try to eat right and be sane about it. I know my body will come back."
Describing her mothering style as "loving, compassionate and interested," Molly says that she's a "little bit more of a disciplinarian" than Panio — but she's far from rigid. "I think I am fairly liberal in that I don't try to force things, ideas or religion on Mathilda, but I want to make sure that she has manners, a code of ethics and cares about others," Molly explains. As for her advice for other expectant moms, Molly notes that "every woman is different and has her own experience." She suggests,
"It's important to eat right and take care of yourself. You don't need to run a marathon but don't stop working out if it feels good. You have to listen to your own body. And trust that you can give birth."
Source: Fit Pregnancy
— Missy