Melissa Joan Hart Opens the Doors of SweetHarts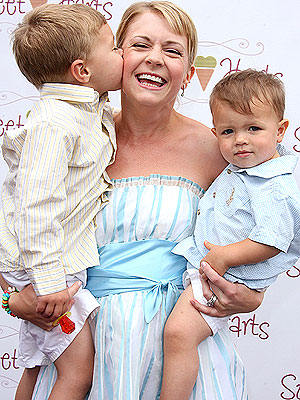 Jen Lowery/Startraks
Mwah! Melissa Joan Hart receives a smooch from 3-year-old son Mason Walter while balancing her boys — that's Brady, 14 months, on her other hip — at the opening of her new candy and fro-yo store, SweetHarts, on Saturday in Sherman Oaks, Calif.
Celebrating the grand opening of SweetHarts with friends including Kellie Martin, Garcelle Beauvais-Nilon, Soleil Moon Frye and Jaime Pressly. Also present were husband Mark Wilkerson, 32, lead singer for the band Course of Nature, and their sons.
"It's been a dream of mine since I was a kid," says the actress of owning a candy store, an idea she came up with together with mom Paula Hart. "I'm so excited to start this next adventure in my life."
The store, beautifully decorated in purple and apple green, features 200 different kinds of candy including Big League Chew, Jelly Bellies, Candy Lipstick, Nerds, Junior Mints and Bubble Tape gum.
It also sells a selection of frozen yogurt, which Melissa served up from behind the counter at the opening, in flavors such as pistachio, peach and bubble gum.
"I love all the different candy because they remind me of my childhood," says Melissa. "I can't wait for my kids to have their birthday parties here."
The actress, who recently lost 42 lbs., is not worried about the temptation that comes with owning a candy store.
"Actually, I don't like sweets unless I'm pregnant," she says. "It's a very lucky thing! The only thing I'll eat [here] is the non-fat frozen yogurt."
— Ulrica Wihlborg
Click below for photos of Kellie Martin and Garcelle Beauvais-Nilon with their kids!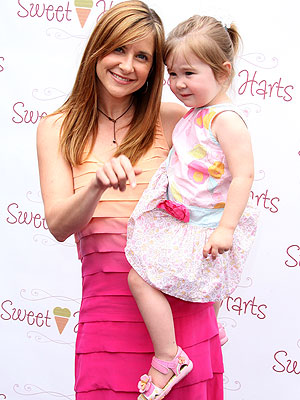 Jen Lowery/Startraks
Actress Kellie Martin — in a dress we loved! — brought along 2 ½-year-old daughter Margaret 'Maggie' Heather.
Maggie wears Stride Rite's NMS Julie ($45).
Kellie wears Madison Marcus' Absolute Degrade Dress ($336).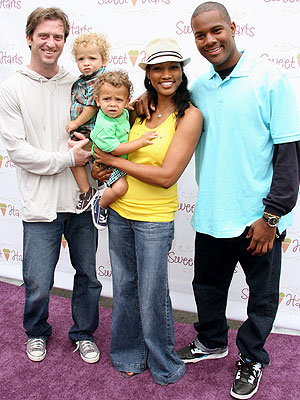 Jen Lowery/Startraks
Actress Garcelle Beauvais-Nilon brought all her boys — husband Mike, fraternal twins Jaid Thomas and Jax Joseph, 19 months and son Oliver, 18 — to the opening!