Dressing Up Proves a Chore for Pregnant Maya Rudolph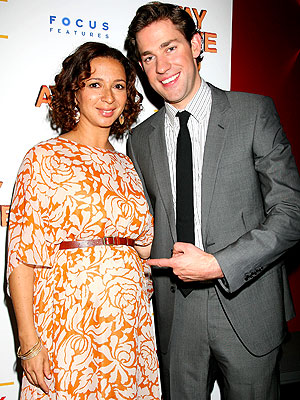 Dave Allocca/Startraks
In her new movie Away We Go, Maya Rudolph wears a fake tummy bump to act out the anxieties of being pregnant.
But life imitated art Monday night as she walked the red carpet at the movie's Manhattan premiere, where Maya, 36, wore a flowing Yigal Azrouël dress with a thin belt that accentuated her very real bump. Due "around November" with a delivery surprise, Maya told PEOPLE that getting decked out for a red carpet these days is "not fun."
"I do my best. This is super dressed up," she said. Indicating her gown, she asked, "Isn't it beautiful?"
This is Maya's second baby with her partner, director Paul Thomas Anderson — daughter, Pearl is 3 ½. "I was sick as a dog for the first trimester," said the actress and comedienne. "But now I'm totally fine."
Away We Go director Sam Mendes joked that Maya had gone beyond the call of duty for the sake of the film, which tells the story of an expectant couple — John Krasinski costars with Maya — who travel far and wide to find the perfect place to raise the child.
"It's an amazing act of selflessness that Maya Rudolph agreed to become pregnant a second time to promote this movie," quipped Sam.
At the film's grandly eccentric Jane Street Hotel after-party, the director said that already being a mother prepared Maya for the role of a pregnant woman: "You remember how it feels, how to move, walk. You know how people react to you."
Added Sam, who has a son, Joe, with his wife Kate Winslet, "Being a parent softens you. It makes you fascinated in other parents. You're always looking at other people to see if they have it a little bit more right than you have."
Away We Go opens Friday in select theaters.
Source: PEOPLE
— Jeffrey Slonim