Alison Sweeney and Her Blue-Eyed Babe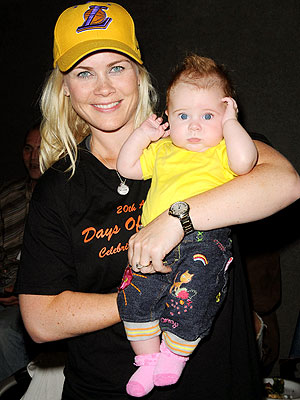 Jill Johnson/JPI
Check out those baby blues! Actress and reality show host Alison Sweeney shows off 4-month-old daughter Megan Hope at the 20th Annual James Reynolds' Days of Our Lives Basketball Game.
The event, held Friday evening in Pasadena, Calif., benefited the South Pasadena High School Boys Basketball Program and the Fremont Centre Theatre.
Alison, 32, and husband Dave Sanov are also parents to son Benjamin Edward, 4.
Alison is wearing IsabelleGrace Jewelry's personalized Love Tag necklace (starting at $90, save 20% with code CBB20 through June 30, 2009). Alison's necklace includes a sterling silver chain, one medium and one large tag and amethyst and garnet birthstones.