Scott and Renee Baio Sell Celeb Baby Items for a Good Cause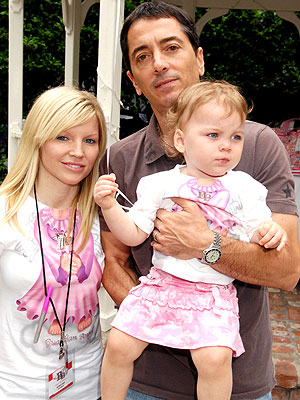 Roger Karnbad/Celebrity Photo
Scott Baio and his wife Renee raised over $16,000 in just six hours on Saturday for their Bailey Baio Foundation — by selling celebrity baby hand-me-downs.
The Celebrity Baby Yard Sale featured the finest toys and togs enjoyed by celebrity offspring, as well as new clothes from hip L.A. baby boutiques such as Mabel's Labels, Ju-Ju-Be and BuckleyBoo, including 500 new pairs of shoes donated by the event's principal sponsor, Stride Rite.
"I thought that a celebrity baby yard sale was be the perfect way to raise money," said Renee Baio, who started the foundation with her husband to promote newborn screening and to help families with children who have metabolic disorders.
"Being married to a celebrity, you get to see how much stuff you actually get for their kids. So it seemed a natural to marry the two."
The couple were inspired to start the foundation after their 19-month-old daughter, Bailey DeLuca, tested positive for a potentially fatal metabolic disorder. Their only child together turned out to be perfectly healthy.
Of course if you are the celebrity in question, such largesse has its drawbacks. "We have been keeping all this stuff at our house," Scott told PEOPLE. "For the last week, our living room has looked like a warehouse."
Items up for grabs at the sale included a classic car-shaped baby bouncer that Dennis and Kimberly Quaid used for their twins, an outdoor play structure that once belonged to actress Kristy Swanson's son Magnus Hart, 2, and pajamas previously worn by Josselyn Sydney, daughter of Dancing With the Stars host Samantha Harris.
For the youngest shoppers at the yard sale, the highlight of the event had no price tag. It came at 11 a.m., when the colorful five-person song and dance troop, The Jumpitz, entertained the crowd, which included Jason Priestley and his 23-month-old daughter Ava Veronica (who came dressed as Snow White), Marissa Jaret Winokur and her son Zev Isaac, 10 months, and Larry Birkhead and his 2 ½-year-old daughter Dannielynn Hope, who enjoyed pretending to be a tiger during the group's animal song.
After the show, everyone went back into buying — or at least that's what the Baio family hoped for. "We have to sell it all or I am in deep do-do with Scott," joked Renee.
To buy leftover items and get more information about an eBay store that will feature other items next month, visit the Bailey Baio Foundation Web site.
Source: PEOPLE
— Oliver Jones
Click below for photos of Marissa and Zev, Kristy and Magnus, Jason and Ava, and Larry and Dannielynn!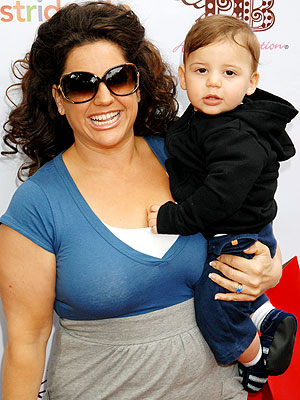 Roger Karnbad/Celebrity Photo
Marissa Jaret Winokur and Zev Isaac, 10 months.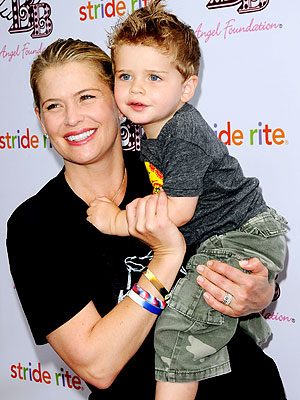 Jill Johnson/JPI
Kristy Swanson and Magnus Hart, 2.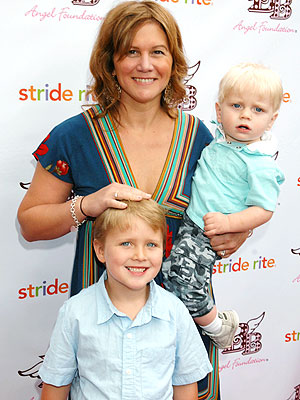 Roger Karnbad/Celebrity Photo
Tracey Gold, Aiden Michael, 5, and Dylan Christopher, 14 months.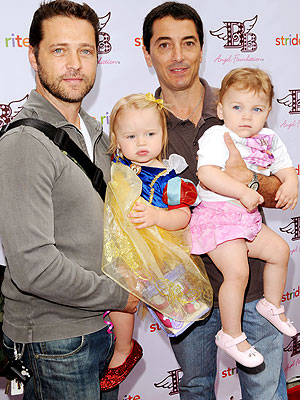 Jill Johnson/JPI
Jason Priestley, Ava Veronica, 23 months, Scott Baio and Bailey Baio, 19 months.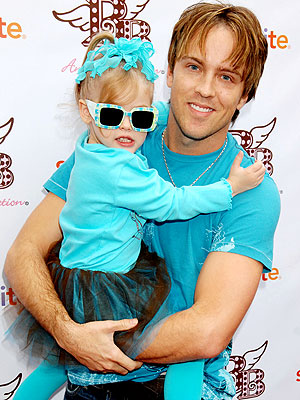 Roger Karnbad/Celebrity Photo
Larry Birkhead and Dannielynn Hope, 2 ½.
Zev wears Isabooties in Anchors Away ($29).
Bailey wears Robeez Mini Shoez Patent MJ in Pink ($32).