Nia Vardalos: 'Stepping Away' From Infertility Opened Door for Daughter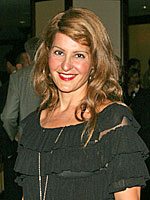 INF
When Nia Vardalos found her long battle with infertility drawing to a close almost five years ago, the actress — famous for maintaining her privacy — took a detour from the industry and gave both her mind and body a chance to mourn her loss. "I gave up being on camera and dealt with it very quietly," she reveals to PARADE. "I had lost my own way." Reflecting back on her decision to shield herself from the spotlight, Nia couldn't be happier with the outcome: during her hiatus the actress was asked to write a script for Tom Hanks.
"I'm very, very happy I did it because it gave me a new perspective. So I wrote six scripts and just tried to get my 'kefi' (Greek for mojo) back."
Once Nia and her husband Ian Gomez embraced the idea of adoption, following a string of failed attempts, the clouds parted and the 46-year-old says she found hope in American Foster Adopt. Now, encouraging families who are considering adding to their family to seek help from the organization, Nia gushes that welcoming her almost 4-year-old daughter — "the most amazing creature" —  was "the best thing that ever happened to me."
Having accepted that she is living out a life plan far greater than the one she had once envisioned for herself, Nia admits she puts all her faith in God.
"I highly recommend just stepping away … I've just accepted that if you have a plan, God has a plan. And your plan doesn't count."
Nia's new movie My Life in Ruins is in theaters June 5th.
Source: PARADE
— Anya