Constance Marie's Body After Baby: 'Just Good Old Fashioned Hard Work!'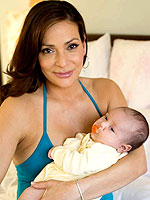 Alison Dyer for PEOPLE for use on CBB
Shop 'til you drop! That saying rings true for Constance Marie, but since welcoming her daughter the bucks are all being spent on baby! "My life has changed in that I no longer shop for me, I shop only for her," the actress told us at a recent event for GigglesnHugs. While Luna Marie, 4 months, may be reaping the benefits, Constance jokes that with Father's Day around the corner, she may have to dish out the dough for the infamous papa present for fiancé Kent Katich!
"Part of me wants to get him a tie — he doesn't wear ties, but it's kind of a cute, traditional thing to do."
Showing off her fabulous figure throughout the pregnancy, Constance was no stranger to a good workout. "[I did] yoga, the gym, and walking was my big thing," she reveals. Despite laughing that a walk is "so not fabulous," the proud mama admits it gets the job done! "Walking kicks my ass and keeps it up high," she says.
Much like her determination to stay fit throughout the nine-month stretch, gaining back her body after baby has been nothing short of hard work. Although Constance maintains a vegetarian diet and dines on salads each night, she credits much of her immediate weightloss to nursing. "Within the first two and a half [to] three weeks, I lost 25 lbs. just by breastfeeding," she explains. "I guess apparently there was muscle underneath all that water weight."
When it comes to her post-baby workout, other than the lack of "big, fat bellies" in her yoga class, little has changed.
"No crazy hormone shots or anything weird, just good old fashioned hard work."
While the work to regain her figure may have been tough, the 43-year-old — who has been open about her battle with infertility — has no complaints when it comes to motherhood. "I look forward to every single day and every single smile no matter how much sleep I have not had," she says.
— Anya with reporting by Brett Malec