Brooke Burke Brushes Off On Daughter Heaven Rain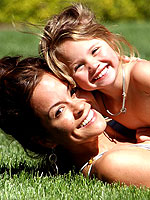 Courtesy Brooke Burke/BabyCenter
In an appearance on the Today show to promote her line of Tauts, Brooke Burke admits her rise to the top of Dancing With the Stars — eventually scoring the coveted disco ball trophy — only a few short months after welcoming her fourth child certainly took a toll on her body. "I probably lost too much weight," she says. As the 37-year-old doesn't own a scale, her exact weightloss is unknown, but according to Brooke she managed to drop "a few sizes" as a result of the grueling rehearsals.
That said, not only did the show provide Brooke with the perfect opportunity to regain her figure, but also inspired a new found love of dancing in her daughter, 2-year-old Heaven Rain. "[She] is a dancing queen now," shares the proud mama.
"She'll come down the stairs and say, 'Dancing the cha-cha Heaven Rain!'"
With four kids each sporting names that fit well into the Hollywood scene, the former host of Wild On! jokes that she is simply following the trend. "You know us celebrities, we gotta do all the weird names!" she laughs. Careful not to take all the credit, Brooke adds that her fiancé David Charvet was mainly responsible for naming Rain, while "Shaya [Braven] means god's gift, Neriah means god's light, and Sierra [Sky] is sort of the mountain top," she explains.
"Fred wasn't going to work for our posse."
As for any future plans to tie the knot with David, the mother of four declares that the two have already done so in an unconventional sense. "We built a house, two babies … we're all working … we're so married!" she laughs.
Neriah, 9, and Sierra, 7, are Brooke's daughters with ex-husband Garth Fisher.
Source: Today
— Anya