Amanda Beard: I'm Gaining Weight 'For a Purpose'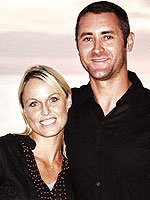 Courtesy Sacha Brown
She coped with horrible morning sickness and pulled off an exotic wedding in Indonesia. But Olympic swimmer Amanda Beard says the biggest adjustment since she learned she was pregnant in January has been the change to her famously toned figure.
"I don't fit in my clothes anymore. I've had to buy all new ones — bikinis too!" says Amanda, 27, who married photographer Sacha Brown, 34, on May 1 and recently announced the couple are expecting their first child, a boy, in September.
"It's a little stressful because I'm used to being so fit and athletic," says Amanda, who has won seven Olympic medals and hopes to compete in the 2012 Games in London. "But it's a really cool feeling to know you're gaining weight for a purpose. It's not like I'm being lazy and binging on junk food."
Amanda's junk food cravings include ice cream and Popsicles, but she's staying active by walking her four dogs and getting to the pool when she can. "I'm eating whatever," she tells us. "I'm like, 'Ok, the baby wants it.'"
Amanda, who accepted Sacha's proposal on Christmas Day in Maui, says she didn't learn she was pregnant until the next month. After battling intense morning sickness for two months, "I feel great now," Amanda reports. "My energy's back, and I'm not puking anymore!"
She and Sacha, who just started a photography business together, are over the moon about their impending delivery, including the gender.
"Now I can do all the boy stuff like dirt bikes. My husband already wants to take him fishing and camping," she says. "Hopefully the next one will be a girl so we can have one of each."
— Alexis Chiu