Wanda Sykes and Wife Get Tag-Teamed By Twins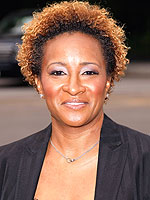 Jemal Countess/WireImage
During a humorous Wednesday appearance on The Tonight Show with Jay Leno, Wanda Sykes dished on life with twins Olivia Lou and Lucas Claude, 4 ½ weeks. Joking that "all hell broke loose" after the family of four — including Wanda's wife Alex — returned home, the 45-year-old comedian describes a scenario that is probably familiar to all parents of multiples. "It was like they were tag teaming us," she recalls. "You put one down, and the other starts crying." From the sound of things, life was definitely more smooth in the hospital. Says Wanda,
"Everybody was great. I loved it. We had a whole staff of nurses around the clock. I was like, 'Oh, this baby is stinky. Take it!'"
The twins were in no hurry to make their debut, Wanda shared. "They say that [with twins], they should be [born] at maybe 35 weeks, but nothing. Just sitting around and waiting," she explains. "I was like, 'Babies, y'all need to hurry up and get here. I have this big White House Correspondents Dinner gig coming up. I've got to get out to the clubs and work my magic."
Alex was finally induced at 39 weeks, and the babies were born "big and healthy" without incident — depending on who you ask! Noting that "there's no such thing as a smooth delivery," Wanda adds, "It's a lot of mop-up…a lot of cleaning up going on after that."
"They did the c-section, and you know when the doctors tell you don't look this way? Don't look that way. It was not pretty. I thought I was on an episode of CSI. I was like, 'What the hell?'"
Click below for Wanda's thoughts on Jon & Kate Plus 8 and to see a screencap of the twins!
Wanda and Alex — who is breastfeeding — are splitting parenting duties equally. "Alex is taking care of everything that goes in and I handle everything that comes out," Wanda quips. As for preparing for motherhood, Wanda jokes that she didn't do much. "I didn't read books…I have no time for your silly books," she says, adding that she had instead always planned to "wing it."
Not entirely, though. Wanda owned up to watching Jon & Kate Plus 8 during Alex's pregnancy, hoping to "pick up some tips" along the way. "Then once we had the babies, I thought, 'Look at these jackasses with their eight kids," she joked. As for rumors of a cheating Jon Gosselin, Wanda says that Alex need not worry about their own relationship suffering a similar fate. "With two babies, I tell my wife, 'Look, if you ever catch me in a bed with another woman you know I'm just trying to catch a nap. I'm just trying to get some shut-eye.'"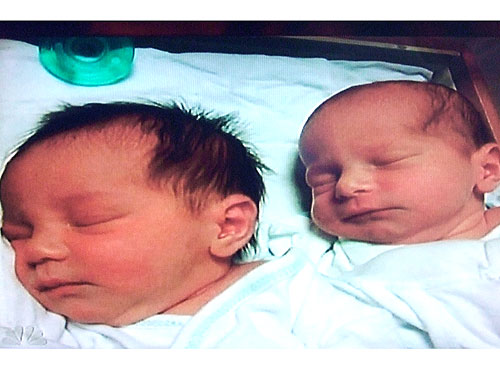 Celebrity Baby Blog
Source: The Tonight Show with Jay Leno
— Missy