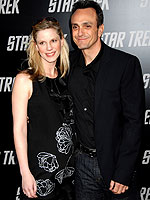 Janet Gough/Celebrity Photo
Contemplating first-time fatherhood at the age of 45, actor Hank Azaria knows that things are about to change in a big, big way. During a recent appearance on The Bonnie Hunt Show, he admitted that he has "a ton of anxiety" about the son he expects this summer with girlfriend Katie Wright, and said that pregnancy lasts nine months because "wrapping your brain around the idea" takes a long time! "I am old," he joked. "I was used to just being alone." His older sisters were apparently used to that notion, as well. "They're a little too excited," he quipped. "They'd given up on me procreating."
After thanking the audience for applauding his "successful insemination," Hank said that Katie's pregnancy has hit all the high — and low! — notes. "She has skipped no symptom," Hank said. "I find it hilarious, fortunately. It's really cute and funny and she's very, very sweet."
When host Bonnie Hunt revealed that her own mom craved coffee grounds while pregnant, Hank clarified that what she actually suffered from was pica, an eating disorder whereby women crave things of little or no nutritional value. Unfortunately, it is something Katie has also experienced! Adds Hank,
"The other day she was looking at the wood paneling, like, 'I just really want to bite it. I kind of want to bite it.' I was like, 'Go ahead baby.' It's very very strange."
Hank can currently be seen in Night at the Museum: Battle of the Smithsonian.
Source: The Bonnie Hunt Show
– Missy