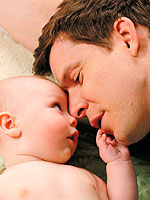 Courtesy Life & Style for use on CBB
The big announcement that Ugly Betty would be packing up and heading cross country to New York City couldn't have come at a better time for Eric Mabius and his wife Ivy Sherman. Despite the continued grueling schedule of 70-hour work weeks, it was the fear of the unknown that had the couple thankful to be heading closer to their Massachusetts roots: they were expecting their second child! "We didn't know when the baby was going to come," the actor reveals in the June issue of Boston Common magazine.
"It's not like I get maternity leave — we can't stop shooting the show."
Once baby boy Rylan Jaxson finally made his arrival on December 7th, the doting dad had nothing but utmost respect for his "amazing" wife. "[Maxfield Elliot, 3,] was just under 8 lbs., and this boy was 10 lbs., 3 oz.," he notes. "Yeah, my wife's a champ." Fortunately, after a bit of a frazzled start, Eric reports that they are all settling in as a family of four. "[Rylan's] a big, fat baby and he sleeps really well," he explains.
That said, keeping up with the workload of having two kids and carrying a "much greater" responsibility has the father-of-two worn out! "Sometimes, as every parent will tell you, you're just trying to put one foot in front of the other," he says.
"Don't let anyone fool you: Having two is more than twice as many as having one."
Quick to praise the show's producers, the actor is grateful for the opportunities to spend as much time with his family as possible. However, as many proud papas would say, any time away from the new baby is rough! "My producers were very forgiving and gave me as much private time as I could get, but having six days off is not enough when you have a new life to be responsible for and you want to see every little thing that's going on," he notes.
Clearly elated with calling the East Coast home once again, Eric admits that he and Ivy often contemplate a more permanent move back to Amherst, Mass., where the two first met in high school. As the 38-year-old is left to "take a train up [from the city] because the car isn't big enough to hold all of us," he shares that the family is keeping their options open. "We just saw a house on the lake where we used to swim in high school," he says. "It was really cool."
Source: Boston Common
– Anya