Steal That Style: Safely Soak Up the Sun Like Levi!
Beach towel? Check. Umbrella? Check. Sand toys? Check. Sunscreen? Check. Extra sunscreen?
We've asked for the warm weather, but are you and your family ready to safely soak up the sun? While that extra sunscreen might be a good idea, the growing trend of surf-inspired gear for toddlers is taking it one step further to keep those harmful rays at bay.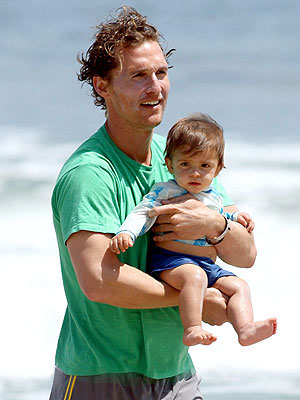 Jason Mitchell/BuzzFoto/FilmMagic
Traditionally worn by surfers to prevent chafing beneath their wetsuits and getting scratched by the sand sticking to their boards, rashguards, or swimshirts, are a great way to protect kids' skin from the sun too! Not only do their nylon and spandex consistency make the gear fast-drying in the warm sun, but many rash guards also offer ultraviolet (UV) protection comparable to, or better, than sunscreen.
Swim shirts can be worn as a more casual look while the kids are out playing in the sun, visiting the zoo, or frolicking at the water park. With a variety of options available, including sleeve-lengths ranging from short to long and tops and full-body suits, they provide great protection from the UV rays. For children who are allergic to ingredients in sunscreen, the shirts are a great option: as long as baby's skin is covered, no sunblock is needed underneath!
Steal That Style: Safely Soak Up the Sun with the looks below!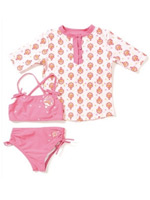 Cabana Life 3-Piece Set
Breaking Bank: We've got our eye on Cabana Life (we have an in-depth review coming up next week). Try their Rashguard 3-Piece Sets ($68) for girls, which includes a two-piece bathing suit and swim top, and the Crab Swim Set ($60) for boys, which includes a long-sleeve top and knee-length trunks. Sun Busters' Rashguard Short- Sleeve Ruched Set ($52) for girls includes a top and bikini bottom. The boys' Short Sleeve All-in-One Swimsuit ($45) is a simple, yet stylish one-piece suit with a zippered front.
There is no doubt you will get your bang for your buck here! While the prices are high, consider the money well spent as Cabana Life products offer 50+ UV protection while Sun Busters guarantees the same protection against 98% of all UV rays.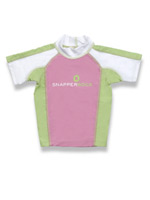 Snapper Rock's Baby Short-Sleeve Rash Top
Not Pinching Pennies: Snapper Rock's Baby Short-Sleeve Rash Top ($35) for both boys and girls have high collars to protect the neck and wide openings to make it easier to get over baby's head (check out our in-depth review). We also like UV Skinz: for girls, Ava Swimshirt ($29); for boys, the Casey Swimshirt ($25). Not only are both shirts made with a tight weave that blocks UV rays and stitching that allows rambunctious toddlers a maximum range of motion, the products are all chemical-free. For a great look for boys and girls alike, try Baby Banz One-Piece UV Swimwear ($31).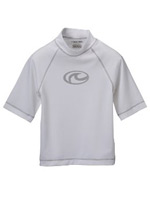 Cherokee Short-Sleeve Rashguard
Bargain Buying: Check out Target's collection for low budget swim tops.  For girls, we like Circo Rashguard with Bikini Bottom in Aqua ($10), a two piece set that includes a colorful short sleeve rash guard;  for boys we like Cherokee Short-Sleeve Rashguard ($11) — a simple rash guard that offers UPF 50+ protection. For a few more bucks, check out i play baby wear's UV One-Piece Short-Sleeve Sunsuit for both girls and boys ($19).
— Anya
Do your kids wear swimtops or one-piece sunsuits? Which is your favorite brand?