Kate Winslet Weighs In on Parenting: 'I'm an Excellent Mother'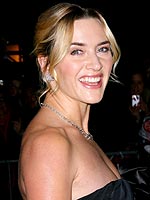 Splash News Online
For anyone who ever had doubts, Kate Winslet is setting the record straight when it comes to motherhood. "I'm an excellent mother," she tells Movies.ie. Defending her role as mother-of-two, the actress admits she was "really, really upset" after reading a recent interview she conducted with Vanity Fair, which quoted her as saying she had spent five months away from her children while filming The Reader. "It was a misquote," she reveals.
"Who the hell is going to go and leave their children for five months? Obviously not me."
In fact, Kate says, the entire filming sequence lasted a total of nine weeks and in order to ease the pain of separation, the 33-year-old relied heavily on the producers. "I'm very lucky to be in the position where I can turn to the producers and say, 'Listen guys, I've never been away from my kids before. How are you going to help me?'" she explains.
In the end, Kate was on location for two weeks by herself before being joined by husband Sam Mendes and her two kids Mia Honey, 8 ½, and Joe Alfie, 5; Once the entire crew went on hiatus, the foursome headed home and later returned as a family to wrap up the filming.
Reiterating that she would never leave her kids for an extended period of time — the two week stretch was a family first — Kate laughs that her children can expect their mama to always be around!
"I would never leave my children for five months, no matter whether they're 5, 15, or 55."
Mia is Kate's daughter with ex-husband Jim Threapleton.
Source: Movies.ie
— Anya