Brooke Shields: Children Challenge a Marriage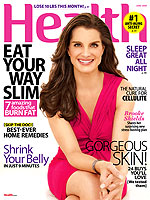 Courtesy Health
In the June issue of Health magazine, Brooke Shields says that the biggest myth of marriage is that love conquers all. "It's not practical," the 43-year-old actress explains. "Without love, I don't think it's possible, but it's not the only thing." For example, Brooke points out that a couple with "completely different views" on how to raise their children have the odds stacked against them, regardless of the love they may feel for one another.  She adds,
"Love can produce the children, but it has nothing to do with the raising of the children. I grew up thinking, 'Oh, that's it. All I have to do is fall in love.' You may think love will change everything, but it really is different with children. Children don't necessarily bring you together, they challenge you."
Taking time out of her busy day for husband Chris Henchy is a priority for Brooke, and in turn, it was Chris who convinced Brooke to take time out for herself. "I used to do a million different things when I was breastfeeding, and finally my husband was like, 'What are you doing? Don't you think you're missing out?'" Brooke — mom to Rowan Francis, 6, and Grier Hammond, 3 — reveals. "I thought I was being productive, and it wasn't until I stopped doing all that, and…I'm gonna start to cry. But, watching her little cheeks go in and out, that's the most amazing thing I've ever seen in my life."
"And I took a deep breath, and my milk came in more. I have to remind myself all the time, things are just too busy."
To that end, Brooke says her life is "as balanced as it's going to be." When she is feeling overwhelmed, it is exercise that "reinvigorates" her, but finding time for a hike in the hills isn't always easy; The loss of freedom many women lament after welcoming a child is one that Brooke can identify with. However, Brooke questions the accuracy of her memory! "I sort of think, how often did I really do it? How spontaneous was I really?" she asks. "Part of what I think I miss is this fantasy of my wild days [laughs], but they never existed!"
Click below to read about Brooke's reconciliation with Tom Cruise.
Brooke's battle with postpartum depression with Rowan — chronicled in the best-selling book Down Came the Rain — was a non-issue after Grier's birth, but Brooke says it remains an issue nonetheless. "[If] I have a bad day, it's not that the people around me don't go, 'Uh, is she OK?'" she reveals. "That's the hardest part. I have to say, 'I'm fine, just leave me alone!'"
That said, if she is worried about sliding back into a depression Brooke isn't showing it; Citing her "knowledge and experience," she adds,
"I won't ever let myself think it's OK to let [those feelings] continue. But who knows what menopause is going to be like for me?"
Brooke's triumph over PPD turned into a media maelstrom after Tom Cruise publicly criticized her use of antidepressants during an appearance on The Today Show, but fences were mended shortly after Tom and wife Katie Holmes welcomed daughter Suri — on the same day, and in the same hospital, as Brooke and Chris welcomed Grier. "[Tom] called an hour ahead and said, 'Can I [come over]?' And I was like, 'Uhhh … am I being Punk'd?' I called my husband, I called my publicist, I was like, 'What do I do?'" Brooke recalls. "I was so relieved when my husband came home and started cooking."
"When Katie brought the baby over, it just got defused and we looked at these two babies born on the same day in the same hospital. The irony is insane. But just to look at these babies, [I thought] 'Really? Life's short. Let's just eat an omelet, and we'll all live our lives and be thankful we have these little people.'"
Brooke singles out Rowan and Grier's vulnerability as "the best and worst thing" about raising girls. "The baby will hold my face and say, 'I just love you so much, Mommy,'" Brooke says. "And it's like, Oh, ohhh, I don't know if I can live up to this!"
"And, yet, it's the best. They'll make you crazy, but they'll also make you so happy that you're crazy."
Source: Health