Ben Stiller Sympathizes With Daughter Ella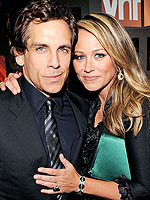 Kevin Mazur/WireImage
It's a classic case of history repeating itself for the Stiller family! In addition to actor Ben Stiller's children becoming quite the comedians, the proud papa tells PARADE that his daughter Ella Olivia has taken a liking to life on a movie set. An avid fan of Enchanted's Amy Adams, the 7-year-old became a regular on the set of Ben's new movie Night at the Museum 2, in which the actress portrays Amelia Earhart. Speaking from past experience after growing up in a family of actors, Ben laughs that when it came to his scenes however, Ella wasn't quite as thrilled.
"I guess she got a kick out of me too. But, having been through it, I know it's always a weird thing to see your parent up there on the screen."
Come bedtime, Ella can't get enough of Ben's animated voice and the doting dad relishes in keeping his girl giggling. "You do whatever it takes to entertain them and there's not a lot of self-consciousness going on there," he explains. That said, don't count on the 43-year-old to be recording his nighttime character ensembles anytime soon — for now, it's remaining a daddy-daughter secret!
"I do a very bad Grover impression, which she seems to like, but it really is kind of a mixture of Grover, Cookie Monster, Yoda, and some woman."
Ben and his wife Christine Taylor are also parents to Quinlin Dempsey, 3 ½.
Night at the Museum 2 is in theaters Memorial Day.
Source: PARADE
— Anya