Soap Stars Reveal Inspiration Behind Children's Names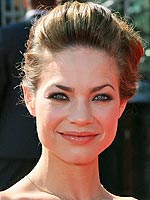 Jen Lowery/Startraks
A name is just a name — or is it? Some of daytime's biggest stars were recently asked by Soap Opera Digest, "How did you come up with your kids names?"— and some of their answers may surprise you!
Rebecca Herbst (Elizabeth, General Hospital; mom to Ethan, 7 ½, and Ella, 5) — "We chose Ethan by opening up a baby book and breezing through it. I turned to the E's, and I had a friend in high school named Ethan, so I thought, 'I've always liked the name Ethan,' and Michael [Saucedo] said, 'Me, too." And that was that. With Ella, it was more difficult naming a girl, but it's a name we both always liked. And, it has nothing to do with the E's."
Eric Martsolf (Brady, Days of Our Lives; dad to twins Mason Alan and Chase Evan, 3) — "We were just trying to find two names that went well with Martsolf. We came up with names on an airplane. We were shooting them off to each other, eating our peanuts. 'Bill? No. Dave? No. Chase? I like Chase.' We made a list of 10 potentials and came up with Chase and Mason. In retrospect, I realize it sounds like a bank, Chase and Mason, which is not a bad thing to shoot for in the future."
Click below for more responses!
Michael Park (Jack, As The World Turns; dad to Christopher Michael, 11 ½, Kathleen Rose, 9, and Annabelle Jayne, 5) — "Christopher is 11; he was quasi-named after my brother-in-law, but my wife says he wasn't. The problem with that name now is that people want to start calling him Chris, so we combat that with Topher. Kathleen was twofold. Kathleen Widdoes [Emma, ATWT] is such a warm and gentle person that I can only hope my Kathleen follows in the footsteps of such an incredible soul. And also, my friend Michael McGrath has a daughter Kathleen, who is just the funniest person I think I've ever met. Little Kathleen was so wise beyond her years, so when we named Kathleen, we had echoes of Kathleen McGrath in the back of our minds. With Annabelle, when we found out it was a girl, Christopher was so crestfallen that it wasn't a baby brother we told him that he could be involved in the baby naming. At that moment, he was so into Annabelle's Wish that he wanted to name the baby Annabelle.
Daniel Goddard (Cane, The Young and the Restless; dad to Ford Martin, 3, and Sebastian William, 5 ½ months] — "When it came to picking our sons' names, my wife [Rachel] and I were looking for names that were strong, but not too common."
Laura Wright (Carly, General Hospital; mom to Lauren Elizabeth, 10 ½, and John, 8 ) — "People think Lauren was named after me, but she wasn't. I was seven months pregnant and I couldn't figure out what to name her. One night, our cable was out and [husband] John had bought me the series Little House on the Prairie for Mother's Day, so I was watching this scene where [Laura Ingalls] said her name was Laura Elizabeth. I was like, 'What a beautiful name.' I thought I couldn't name her after me; how self-absorbed! So I thought: Laura, Lori, Lauren. Lauren Elizabeth. That's beautiful and that was it. My son has the name John Wright and there are four John Wrights. There's John's grandfather, John's father, John and my son. They all have different middle names, but he is a John Wright through and through. I think he even has more of his grandfather, John's father [in him] than he has of my husband."
Jacob Young (JR, All My Children; dad to Luke Wayne, 5 ½ months) — "We wanted a biblical name and we really liked Luke. My middle name is Wayne, and so is Luke's."
Brian Kerwin (Charlie, One Life to Live; dad to Finn, 18, Matilda, 16, and Brennan, 14.) — "Before we knew whether we were going to have a boy or girl, someone jokingly said, 'Matilda,' and I piped in that one of my favorite songs by Tom Waits is Waltzing Matilda, which is an old Australian folk song. My wife [Jeanne] just chimed in and went 'Oh, that's a beautiful name.' Finn actually went two full weeks without being named because my wife and I could not agree. Finally a friend said, 'Okay, this is crazy, you two. You each write down all the names that you think work.' And the only ones we crossed on were Flynn and something else, and then we were kicking it around and decided Finn sounded better. A friend of ours, William Finn, is a composer and a lot of people call him Finn, and we just thought, 'Finn sounds good.' Then, Brennan was almost Francis, then Troy, and in the recovery room we came up with Brennan.
Source: Soap Opera Digest, May 26th issue
– Angela