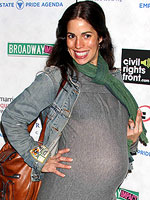 Robert Pitts/Landov
In the home stretch of her first pregnancy — she's due the end of July with a baby girl — Ana Ortiz is relying heavily on her support system: her husband Noah Lebenzon and her mother. While the Ugly Betty actress and her mom have gotten a few laughs over the sex of the baby, joking that payback is sweet, Ana admits that sharing the experience has brought the pair much closer. "There's somebody that I can go to and say, 'Is this normal? Does this happen?'" she says of the proud soon-to-be grandmother.
"We're on this plateau with one another and it's just incredible."
Despite her mother's support, at the end of the day, Ana can always count on Noah to make that midnight ice-cream run! "Most, most, most of all, my husband has been incredibly supportive," she gushes. Telling Us Weekly that "there's no one I would rather be going through this with," Ana reveals her favorite part of the pregnancy to be watching Noah marvel at his wife's moving belly. "I love seeing my husband's face every time [he] watches my stomach move," she giggles. "You can see movement, it's crazy!"
As she envisions the future together as a family of three, Ana has trouble listing all the special moments she is looking forward to with baby girl. "Seeing what this person looks like, what kind of personality she'll have," she says. Sharing that she is excited to watch her daughter "meeting my family" — Ana quickly corrects herself, adding, "her family" — she closes the interview by summing up what's to come.
"I'm just looking forward to this whole new chapter of life."
Source: Us Weekly
– Anya