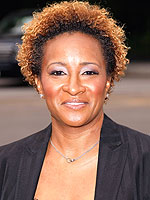 Jemal Countess/WireImage
For Wanda Sykes — who recently welcomed twins Olivia Lou and Lucas Claude, 3-weeks – life has been forever changed. "I realized that I don't matter for sh-t," the 45-year-old comedian tells Extra! "Basically, I don't matter…It just puts everything in perspective."
Of course, the new eyes with which she views the world are eyes which are droopy with fatigue! When asked whether she's gotten any sleep since the twins arrived, Wanda replies,
"Not at all. I'm napping right now. I'm sure I have some baby poo on me somewhere."
Speaking of the latter, diaper changes pose a continual challenge. "They're peeing on me," Wanda explains. "The little boy…I know I have to put a towel or something over top, but as soon as I put it on, he pees." Joking that "it's like the carnival…he's after me," Wanda adds that the twins "are great." As for whether or not she plans to add to her family with wife Alex, Wanda laughs,
"I would love for them to have an older brother."
Source: Extra!
– Missy