Steal That Style: Red Hot Summer Sandals
Get ready for a red hot summer! With the sun shining and the warm weather upon us, celebrities have been busy breaking out the summer shoes. From what we can tell, this season the styles will be particularly hot — the stars are seeing red!
So who exactly has been out and about sporting the flaming color? We've seen little Ava Eliot Jackman who showed off her Converse Girls Chuck Taylor All Star Party ($21) shoes while visiting Disneyland with dad Hugh Jackman and family, actress Marcia Cross having a bit of fountain fun with daughter Savannah Mahoney sporting Superga Classics with Velcro ($45) and expectant mama Nicole Richie out with Harlow Madden, who wore See Kai Run smaller shoes in their Monica style ($32). And we can't forget Suri Cruise who loves her pair of Nordstrom's Bella Ballet Flats in Candy Red!
We've spotted a variety of shoe styles over the past few months, but with summer right around the corner, we're concentrating on red hot sandals. While we haven't seen many boys jumping on the bandwagon, you'll find some great styles for them here too!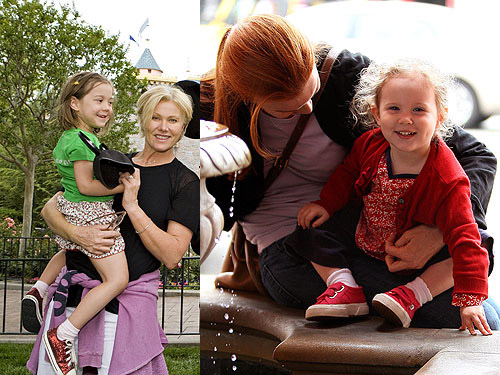 Paul Hiffmeyer/Disneyland, GSI Media
Steal That Style with our ravishing red sandal picks below!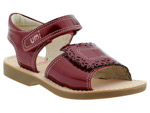 Umi Suze Sandals
Breaking Bank: Let's face it — come summer, many kids simply want to be barefoot! So, dishing out the dough for pricey sandals can leave some parents uneasy, but if you're willing to go the extra mile, the Keen Kids line for both boys and girls is a well-built shoe that is sure to last through rolling in the grass and hiking in the woods.
Favorites: We have our eye on Umi Suze sandals ($55) and Keen Kids Newport H2 ($45).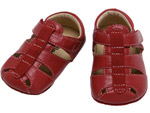 See Kai Run Charlie
Not Pinching Pennies: Ever so popular with celebrity mamas, See Kai Run has been spotted everywhere the past few weeks! One of the few places we found that had red sandals for baby boys, the Charlie style is sure to be a hit! Check out our recent reviews of See Kai Run's Smaller line, their original toddler line, and their kids line eleven.
Favorites: We love  See Kai Run Charlie for our little guys though they work for girls too ($32) and for the little ladies, Saltwater See Wees Sandal ($30), which also works as a great, gender neutral choice.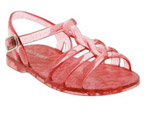 Old Navy Twisted Strap Jelly Sandals
Bargain Buying: Keep 'em coming! So seems to be the trend for affordable red shoes. While it was a bit harder to track down red hot inexpensive sandals for boys, stores like Target have quite a few adorable red shoes for girls with choices like Circo Dawn Patent Bow Sandal ($17) and Genuine Kids by OshKosh Diantha Open Toe Wedge ($15).
Favorites: For girls check out Old Navy's Twisted Strap Jelly Sandals ($9.50) and for boys Nerf Sabre Velcro Sandals ($9).
— Anya