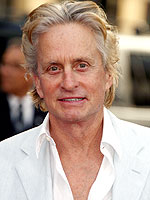 Juan Rico/Fame
Life's a beach for Michael Douglas and family. They call the island of Bermuda home, for it offers a little something for everyone; For Michael, 64, it represents a connection to his own mom's Bermudian roots and for wife Catherine Zeta-Jones, the tiny British colony offers a taste of home. However for the couple's two children Dylan Michael, 8 ½, and Carys Zeta, 6 — both of whom attend schools there — it serves as a safe haven from the trappings of fame. Michael notes,
"It creates an environment for us away from the entertainment business, and gives our kids independence and freedom where showbiz isn't on everybody's lips. It's a lovely, lovely place."
Although he's quickly approaching what many consider retirement age, Michael has no plans to slow down. What's more, he feels that being an older dad gives him an advantage because he is better able to see what's truly important in life. "I have the attention, the time, the priority," he says. "This is not a business that you can balance your family life with your professional life."
"Most people have a nine-to-five job and they work five days a week. Sometimes they have the summer off. This is a job where you're gone for long periods of time. When your priority becomes family first, you really get to enjoy and savor these incredible years of super-fast growing spurts. It's a bond that's magical."
It's also a bond that Michael won't break by interfering with the kids' career paths, whatever they someday turn out to be. "I don't think you have a lot of control over what your children decide to do," he explains. "Either encouraging or discouraging – that's certainly the life they're familiar with and the life they know." While it "wouldn't surprise" Michael if the kids do follow suit and pursue acting, at the same time "they'll see the pitfalls and the great advantages."
"It is a gypsy life. I'll support my children in whatever they decide to do."
Michael is also dad to Cameron, 30, with ex-wife Diandra Luker.
Source: OK!