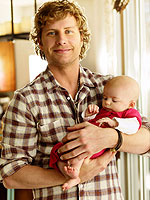 Brian Doben for PEOPLE for use on CBB
First-time fatherhood brings with it "a whole new language," Dierks Bentley noted during a recent appearance on The Bonnie Hunt Show. "It's like, 'Can you speak two languages? Yes, I speak English and baby language." Words aren't the only things Dierks had to learn, however. The concept of swaddling can be tricky, but it's a concept Dierks didn't need to learn on the job thanks to his two dogs Jake and George. The 33-year-old country singer said that his pets allowed him to get in some "good practice" before daughter Evalyn 'Evie' Day, 7 months, arrived.
"They were very patient…I put the dog in the blanket, and learned how to wrap him up."
There were concerns, however, about how Jake and George would react to baby girl. "Jake thinks his job is to protect me from squirrels," Dierks explains. "And he thought kids were big squirrels." Fortunately, Jake has been able to differentiate between the two. "He's been great, ever since she came along," Dierks raved. "I brought the blanket home [from the hospital] and [let him] sniff it." He adds,
"He's so protective of her now. He's funny, we'l be downstairs and we'll go to check on Evie…We'll go upstairs and and we'll look into the crib, and there's Jake. He's right in line with us, looking in on her too."
Evie is Dierks' daughter with wife Cassidy Black.
Source: The Bonnie Hunt Show
– Missy