Mary Louise Parker's Priorities: Kids, Job, and Family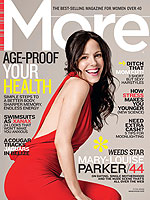 Courtesy More
In 2003, what should have been a joyous time for Mary Louise Parker and actor Billy Crudup devolved into a tabloid frenzy when the pair split during the actress' seventh month of pregnancy. Now, with the past behind her, Mary Louise is focusing strictly on the present. During an interview for the June issue of More magazine, Mary Louise is quick to note that commenting on her personal relationships would not benefit her son in the least. "I've never commented on the situation and I won't because it's not fair to my son," she says of the breakup.
Reluctant to divulge any details of the family dynamics, Mary Louise does admit that she shares a civil relationship with Billy in order to allow their 5-year-old son William Atticus the opportunity to blossom in a healthy environment.
"Who wins? No child can benefit [from their parents fighting]. Your love for your child should eclipse any other feelings you have for another person."
After welcoming her son Mary Louise felt a pull towards more children, but newly single, she instead decided to look into her life-long dream: adoption. Despite experiencing initial wariness toward the prospect of adopting a child by herself, her determination to live life sans regrets had her making the phone call. "I thought, I'm single, it's too hard. But then I thought, I don't want to be on my deathbed not having done something because it was too hard," she reveals.
Fortunately for the excited mama, whose demands were simple — "I just wanted a child who needed a mother and a home and food and love" — the pieces to the puzzle quickly arranged themselves. Now mom to 2 ½-year-old Caroline 'Ash' Aberash, Mary Louise has no second thoughts about her decision to expand her family. "I'm so glad I did — she is magical," the Weeds star gushes.
With two young children, Mary Louise admits that the dating scene has been complicated ten-fold. However, the busy actress makes it quite clear to her potential partners: the kids come first. For now, she says, she has notched out a spot for any suitors as number four on her list of priorities. "Some men are really daunted by it, some are really attracted," she explains.
"I had someone ask, 'Does this mean we can't go out anytime we want?' And I said, 'Yes, that's exactly what it means. It means you come fourth, 'cause it's my kids, my job, my family.'"
Source: More; June issue
— Anya