Iman Dishes on 'The Miracle of Conception'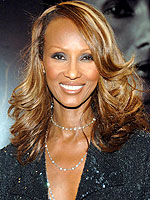 WENN
The age difference between her two daughters — 30-year-old Zulekha and 8-year-old Alexandria 'Lexi' Zahra Jones — is stark, and former supermodel Iman, 53, doesn't like reporters to do the math! "God, you're making me sound even older than I am," she tells PARADE. "People talk about the miracle of birth. No. There's the miracle of conception." She elaborates,
"I did IVF, but nothing happened. So I began to think of adoption and then I got pregnant. It was definitely a miracle."
Motherhood the second time around has been a different experience entirely, and Iman says that she's far more patient as a result. "I was at the height of my career when I had my first child, and I took her with me around the world," she notes. "Then I had to root her in school; It was difficult to leave her behind."
"Now this one thinks she has it tough because both her old parents are at home with her all the time. When Lexi was about four, she first saw a picture of [her dad] David [Bowie] as Ziggy Stardust. 'Why is his hair orange?' she wanted to know. The makeup didn't faze her."
With the glitz and glamour of her own career largely behind her, Iman says that she's content to tackle more mundane pursuits. "Lexi's class has built a kind of diorama of a Native American village for all us moms to admire," she laughs. "Ah, my glamorous life."
Zulekha is Iman's daughter with ex-husband Spencer Haywood.
Source: PARADE
— Missy