Christian Bale Dishes On His Daredevil Daughter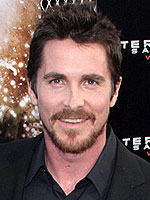 Landov
Notoriously private when it comes to his personal life, Christian Bale couldn't help but gush about his little girl during a recent interview with The Insider. While never revealing his daughter's name, the proud papa shares that the 4-year-old was a regular on set during the filming of Terminator Salvation. Not only did the close daddy-daughter interaction serve as experiences the youngster "will never have," Christian explains that it also provided the prime opportunity for a quick lesson in dress-up!
"She dresses up as Darth Vader, she dresses up as Yoda and I say, 'That's all I do. That's it. I do exactly the same that you do with your friends.'"
While the intricate costumes and realistic make-up transformations may normally frighten small children, the 35-year-old actor laughs that his daughter is quite the daredevil! "She enjoys coming to visit the sets and she got to play around with the Terminator models," he says. "She's at that age where she's not afraid of anything."
Despite his continued success, notes Christian, at the end of the day, his primary focus is on his family.
"It's all about my girls, my wife [Sandra 'Sibi' Blazic] and my daughter. I carry a picture of them with me all the time."
Terminator Salvation is in theaters Thursday.
Source: The Insider
— Anya