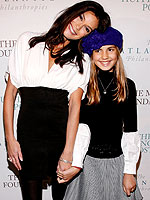 Joe Kohen/Getty
Just as she does every year, Teri Hatcher recently marked Mother's Day at the racetrack alongside her own mom and her daughter Emerson Rose, 11. Construing their annual tradition as a lesson in mathematics for her daughter, Teri revealed during a recent appearance on Late Show with David Letterman that Emerson is already a pro. "This year she did all the winning," Teri said. "My mom and dad spend a lot of time handicapping, and we all lost." Emerson's technique is fairly straightforward — she picks her horse based on its name — and on her first race of the day, she won $28.
"She starts with $100; That's what we all play with…So I said, 'You can quit now, and go home with $28. And she didn't. By the end of the day she still had, like, $8. I said, 'You spent the whole day losing $28.'"
A good time was had by all, however. "She rides horses, we have horses…I just think it's beautiful," Teri, 44, explains. "It's a beautiful day. It's kind of like the Kentucky Derby…It's our little Los Angeles version of that."
Emerson is Teri's daughter with ex-husband Jon Tenney.
Source: Late Show with David Letterman