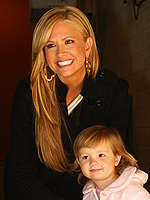 Richie Buxo/Splash News Online
Fear of the unknown — a common thread among expectant mamas — became a phrase that Nancy O'Dell learned all too well during her pregnancy! "There's so much that happens that isn't life-threatening but scares you!" she says in a new interview with American Baby. As a result, the Access Hollywood co-host has penned her first book Full of Life: Mom-to-Mom Tips I Wish Someone Had Told Me When I Was Pregnant, all in an effort to "demystify" the pregnancy process. Her inspiration? Fellow moms!
"I sent an e-mail to Halle Berry listing all the things I wished I'd known when I was pregnant."
Once she delivered daughter Ashby Grace, turning 2 next month, the lack of information only seemed to continue. Struggling with the basics of breastfeeding, the frustrated mama quickly realized she had never been taught how to properly nurse. "I couldn't figure out how to unlatch my baby!" she recalls. "Thank goodness someone showed me how to move the baby to the breast, not the breast to the baby."
Fortunately, things improved after a few weeks of practice, as Nancy encourages women to stick it out. "It would've been helpful to know that nursing can feel so much better after three weeks," she says.
Despite her difficulties, the 43-year-old proud mama relishes her role.
"Motherhood is in vogue right now, but it's also simply the best thing ever!"
Ashby is Nancy's first child with husband Keith Zubchevich.
Source: American Baby; May issue
– Anya