Mia Hamm: Don't Call Me Supermom!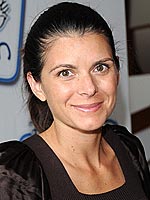 Michael Williams/Startraks
Going from no kids to two kids — at once! — has its advantages, soccer star Mia Hamm notes in the May issue of American Baby. "I'm not going to act like I'm this supermom because I have twins," she says. "You go with it, and you make it work."
"We always say we don't know anything else; We've only had two, never one."
Mia says that moms of multiples need to accept help when it is offered, however. "Even those five minutes to take a shower or to eat something sitting down as opposed to standing up — they're vital for your energy," she explains. What's more, there is a light at the end of the tunnel. "It does get better every single day," Mia, 37, notes. "It does get easier."
Two-year-olds Grace Isabella and Ava Caroline may have shared a womb, but that's all they have in common at this point! "One daughter wants to be with me more, but I have to make sure I spend enough quality time with each," Mia reveals. "The other girl is pretty mellow and very independent, and I just want to make sure she understands that I love her and adore her just as much as the daughter who wants me to hold her all the time."
Taking time out for herself is often difficult, and Mia seeks refuge in an unlikely place: Because it's hard to find a shopping cart that will accommodate both girls, she tries to grocery shop by herself whenever possible. "Those are times for me to get away," Mia says. Exercise remains a priority, as well, with Mia often working out after her babysitter arrives and the girls have settled in for the morning.
"It's important to not feel guilty for taking those moments — in the end, it gives you more energy, and you're better off."
Describing the day she delivered the twins as the best day of her life, Mia is grateful for all that she has, and keeps the chaos of life with twins in perspective whenever possible. "Sometimes it's too easy to get caught up in all the nonsense," she admits. "In the car today, I looked back and they had chocolate all over them and I was like, 'It's really no big deal.' You can clean them."
"We have two really sweet and happy kids. For both me and my husband, that's all that matters."
Grace and Ava are Mia's children with husband Nomar Garciaparra of the Oakland Athletics.
Source: American Baby, May issue
— Missy