Gilles and Juliana Marini to Undergo Surgery Together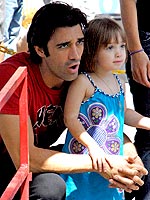 Adrian Varnedoe/Pacific Coast News
Like father, like daughter! The old adage rings true for Dancing With the Stars finalist Gilles Marini and his 2 ½-year-old daughter Juliana. Gilles needs surgery in the near future to repair a separated shoulder he suffered during the reality show, and is getting nervous as his appointment with the surgeon approaches.
"As the procedure is "getting closer … I'm getting a little bit antsy," the actor admits. "I'm like, 'Ok, what's going to happen?'" It turns out that Gilles' nervousness isn't only for himself — Juliana needs an undisclosed form of surgery herself, as well.
"My daughter needs a little surgery too, so we're going to have one room. We're having surgery the same day — that way we can actually stay together."
Juliana is Gilles' daughter with wife Carole. The pair are also parents to son Georges, 9 ½. Watch Gilles and his partner Cheryl Burke compete in the finals of Dancing With the Stars, starting tonight on ABC.
Source: Entertainment Tonight
– Angela