Carnie Wilson: Luciana Is Due Soon!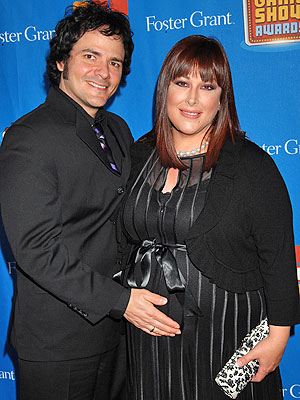 Celebrity Photo
She has the name picked out and an eager older daughter. Now, Carnie Wilson is ready to have her second baby, who is due in early June.
"I'm tired and my tummy is so tight!" Carnie, 41, told PEOPLE at Saturday's GSN Game Show Awards in Beverly Hills. "She's healthy. She's three weeks away, 2 ½ weeks away. I'm feeling great."
Joined at the event by her musician-husband Ron Bonfiglio, mother Marilyn, and aunt, Carnie said, "I didn't know what it would be like at nine months pregnant. But I really wanted to be here, and I'm honored. I got into hair and makeup, and I'm rolling down the carpet!"
The baby's name will be Luciana, Carnie first announced in January. Balancing motherhood — daughter Lola Sofia is 4 — and a career — hosting a revival of the classic Newlywed Game on GSN — is one of Carnie's bigger life challenges.
"Let me tell you, it's not easy, it's not easy," Carnie says. "It's really, really challenging. But my time with my daughter is so precious. I make sure every night, every morning, if I'm not working, I'm taking her to school, I'm reading her books, I'm making her dinner, I'm loving her. It's everything."
Lucy can expect to live in a house filled with books, as Carnie has already taught Lola to be a voracious reader. "If you knew how many books this child has," said Carnie, who also does not anticipate any sibling rivalry.
"Oh my God, Lola is over the moon about this," Carnie says. "She says, 'I love you, Luci,' and kisses my tummy. I'm going to wrap a doll and have it at the hospital and give it to Lola from Luci. We're ecstatic."
On camera, Carnie has hosted The Newlywed Game since April 6, marking the show's return to the air for the first time in 10 years. To put her own touch on the revived favorite, "I try to be fearless and not overanalyze," she says. "That's the way I am."
Source: PEOPLE
— Nicholas White