Alex Kingston Struggles With the 'Special Bond' of Mother and Child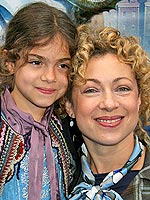 Russ Einhorn/Splash News Online
When Alex Kingston signed on to play Elizabeth Corday on the hit show ER, she left her daughter Salome Violetta, now 8, in the capable hands of her husband, Florian. While the arrangement proved ideal and an "obvious choice" as she was able to financially support the family, the actress admits that her decision did not come without consequences.
Telling the Daily Mail that "part of me feels as though I missed out on that special bond mothers get from spending the first few years with their child," Alex struggled with her role as a mother.
"Florian was amazing. In fact, he did the job so well that when I was finished working on ER and wanted to step into his shoes, it was difficult."
With the show having wrapped, both Alex and Florian have returned to work with the couple now sharing the parenting responsibilities. The transition, however, has not been an easy one. "I still feel like I am trying to claw my way through all of that loss and establish a strong bond with my daughter — but I will never have the bond that my husband has with her, because he's never away from home," she says.
Since the show, the busy mama has taken on several smaller projects, but shares that with each job she was left to weigh her options. While leaving her family for her role in Hope Springs was difficult — both Florian and Salome visited her every six weeks — it led Alex to the realization that the "loss for me is far greater" than the satisfaction she receives from her career.
"I missed so many things with her like Halloween, her first tooth falling out … Those things might sound trivial, but to a mother they're important."
That said, the 46-year-old has contemplated moving away from bustling Los Angeles — a decision, she says, she would be happy with if she were a full-time mother to more than one child. However, despite the couple's efforts, the dream of adding to their family is far from becoming a reality. After struggling to conceive, Alex and Florian turned to adoption only to have one birth mother disappear and a second one change her mind. "I would try again in a heartbeat, but my husband won't. Maybe he'll change his mind, but at the moment, he can't," she reveals.
"I think people assume that celebrities get babies like this, like Angelina Jolie. But they don't hear about the ones who aren't successful because we don't like talking about it, it's too painful."
Source: Daily Mail
— Anya