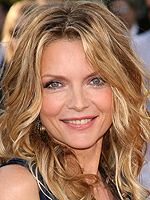 Jason Merritt/FilmMagic
The decision to step away from work to focus on family is one that Michelle Pfeiffer doesn't regret, for managing a successful acting career and caring for two growing children had become downright impossible. When Claudia Rose, 16, and John Henry, 14, were young, Michelle tells the Chester Chronicle she "actually worked a lot" because she was able to take them with her on location. "It kind of got harder and harder finding projects that didn't entail me leaving home for long periods of time during the school year," however, she explains.
"Once they were enrolled in school, I didn't like the idea of uprooting them or being away from them for long periods."
The family of four — including Michelle's husband David E. Kelley — then moved into a new home, an event which proved to be "much bigger" than Michelle anticipated. "Actually, [it was] quite overwhelming," she admits. "That kept me very occupied and busy, and distracted from my work."
Once everyone was finally settled in, the 51-year-old actress says she "sort of realized how long it had been" since she had been on set. "I started to miss it and thought it was time to go back," she adds.
"I decided to come back to work and Hairspray was there, Stardust was there. It's been really fun and I've been lucky to have the opportunities I've had, actually my whole career, especially the past few years."
Michelle's latest film Cheri opens in limited release next month.
Source: Chester Chronicle