Melora Hardin and Husband: Parenting Partners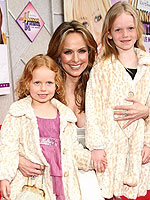 Juan Rico/Fame
Work imitates life for Melora Hardin and her husband Gildart Jackson. As the couple recently partnered over Melora's directorial debut You — which was written by Gildart, with both of them starring in the film alongside their daughters — the 41-year-old actress tells Cookie magazine that their ability to work together bubbles over into their approach to parenthood. Explaining that she and Gildart "mostly agree on the way we parent our children," Melora says the two even "take turns" when it comes to acting as the household disciplinarian.
The foursome that works together, sleeps together — at least on Saturdays! — as Melora shares the family's weekend routine.
"By the time we wake up, the girls are usually in bed with us, so there is a lot of cuddling, giggling, and lounging. Then we all head downstairs in our pj's to make breakfast and eat as a family."
Even with the team effort, Melora admits that mornings can still take some managing on her part. Giving her two girls a sense of independence by allowing them to choose their own school outfits, both Rory Melora, 7 ½, and Piper Quincy, 4, sometimes can't help but ask for a bit of fashion advice from their mom!
"The most frazzling moments happen in the kitchen, over breakfast, while the girls are trying to pick out an outfit from the four or five I have chosen for them, all while rushing to make it on time to school."
Citing dinner time as her favorite family ritual, Melora also finds joy in watching her children mature. Often getting a laugh — or two! — from listening to her girls "turn words inside out," Melora fondly recalls her youngest daughter's unique pronunciations. "Piper used to say 'comfor-full' instead of 'comfortable' and 'be-cept' in place of 'except,'" she shares.
One big climb Melora wishes she had taken before becoming a mother? "[I wish I had] climbed Mount Everest," she says.
Source: Cookie
— Anya