Ziggy Marley Says Kids Are Interested in Nature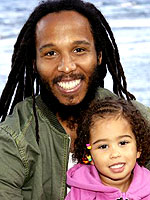 Johnny Black
In a new interview with the LA Times, father of five Ziggy Marley reveals his secret for snoozing well into the afternoon. "Usually I wake up early and sometimes I make them breakfast, sometimes my wife [Orly] makes them breakfast and I can go back to sleep," he admits. During those early morning hours, Ziggy says that whenever possible Daniel, 19, Justice, 17, Zuri, 13, Judah Victoria, 4, and Gideon Robert Nesta, 2, turn off the television and instead explore the great outdoors. "Outside is very interesting," he notes. "There's a whole world there."
"They show interest in nature…They love to see the trees and the moon and the sun and the stars. They know a lot of things. My little son is always asking questions: 'What is that? What is that?' That's a butterfly, that's a snail. They're very interested."
Next up for the reggae star is a possible children's book. "I've been writing some stories, working on some stories for kids," he says. "Give me a couple more years." Noting that with parenthood "you have to do it bad to do it really wrong," Ziggy adds:
"It's a natural thing about it — that you want to give love. You want to do the best thing for your children."
Ziggy's first children's album — Family Time — is available now.
Source: LA Times